"Alexa, teach my Grandmother to use Amazon"
Holiday gift of Echo Dot leads to generational exchange
A new generation will take financial services into the future. In the "Next Voices" blog a rotating group of bloggers of the younger generation will share what they are learning and doing. Proposals from guest bloggers are also invited. Please email [email protected]
"The rose is a rose,
And was always a rose.
But the theory now goes
That the apple's a rose,
And the pear is, and so's
The plum, I suppose.
The dear only knows
What will next prove a rose.
You, of course, are a rose—
But were always a rose."
—Robert Frost
In this post, I explore the stark difference in reactions of two generations to the digital blockbuster, Amazon Alexa.
Millennials: "I love my Echo Dot!"
For months now, I have been fascinated by the Amazon Echo, and its incredible ability to understand human requests and deliver information, entertainment, and even our groceries.
The Amazon Echo powered by voice-control, or Alexa, was originally announced in November 2014, and its family of Plus, Show, Dot, and Spot has been expanding ever since. So has my interest in this trendy product.
I acquired an Amazon Echo Dot in December 2017 at the surprisingly low price of $29.99 (courtesy of Amazon's holiday sale). I was so excited for this new toy, and I immediately began exploring its capabilities.
I used it as an information source, for checking the weather, the news, my favorite sports teams' schedules, and even facts about obscure creatures found on the ocean's floor.
I used it to listen to music and podcasts and really corny jokes that I could repeat back to my dad. I used it to call my mom, and I used it to text to my brother, who doesn't answer phone calls. I even linked my bank account, so I would be able to place my AmazonFresh order with Alexa and order an Uber (or Lyft) when I'm running late to work.
Currently Amazon claims that Alexa's "skill" count numbers in the tens of thousands. Amazon has been promoting Alexa as both a business and consumer aid, and it encourages developers to build and publish Alexa skills. Right now one of the perks it is offering developers is an Alexa "hoodie."
There are nearly 1,000 business and finance skills listed on Amazon's site, including skills published by American Express, Capital One, U.S. Bank, Rocket Mortgage, T.D. AmeriTrade, Fidelity, insurance companies, some cryptocurrency interests, and some budgeting apps.
The Millennial comfort zone
My excitement over my Amazon Echo Dot was slightly curbed by a lingering fear that Amazon could be "listening" to my daily routines and crunching up my data to sell me all of the things I didn't know I needed.
While I have developed some value for data privacy since my first post about Amazon boots two years ago, the fear was only fleeting. I still shop online for most of my home goods and personal items. Alexa just makes it easier.
Great holiday gift, I thought
Clearly, I became a big fan of Alexa, and I thought everyone should have one.
So for Christmas last year, I decided to buy another Amazon Echo Dot—for my grandparents.
Based on my own experience with Alexa, I thought this would be the perfect gift. My grandparents have never been fully comfortable with their computers, tablets, or smartphones, all gifts from family members looking to make their lives easier.
I thought Alexa's voice control capability would allow my grandparents to skip right over the learning curve of those devices. They could just speak, and Alexa would deliver. They could ask Alexa to read a book, call their kids without leaving the couch, or order an Uber when they don't want to drive after dark.
With all of the best intentions, I wrapped up the tiny Echo Dot package, delivered by Amazon two days before Christmas, and kept it under the tree, expecting to win "Granddaughter of the Year" for my brilliant gift.
Whoops.
Baby Boomers: "What is it?"
Christmas morning came, and I saved the best gift for last.
As my grandmother pulled the ribbon off the rectangular package, I waited in excited anticipation.
What I saw instead, as the contents of the package were revealed, were looks of bewilderment and hesitation.
"What is it?" asked my grandmother.
My grandmother claims that she was intrigued by the gadget, but I'm sure she didn't know what to do with it. My brother and I spent Christmas afternoon setting up my grandparents' Amazon account and imploring them to "Just ask Alexa whatever you want!"
At first, my grandparents wanted to ask Alexa to play music. They requested old-time Indian musicians that they listened to before they emigrated to the U.S.
"I don't know that one," said Alexa.
What about Barbra Streisand or Celine Dion, more mainstream, American artists that my grandparents also love?
We had better success here, but my grandmother's accent and dentures still returned the occasional, "I don't know that one."
It was frustrating and time-consuming to engage with Alexa, but my grandparents persisted because they knew it meant a lot to me.
Adapting to technology
Over the course of last few weeks, my grandparents got better at interacting with Alexa.
My grandmother told me that she realized she had not been fair to Alexa because she had asked Alexa to do something too difficult. She just wanted to have a conversation with Alexa or ask her broad questions with well-thought-out responses. Now, she thinks about what specific information Alexa might be able to help her with and then crafts her questions in a more deliberate way.
Beyond listening to music on the Echo Dot, my grandmother said that she has been using Alexa to ask for information, especially about medical symptoms and healthcare. She actually likes the Echo Dot because it's so tiny, making it easy to take into a different room, out of town, or to show off at her garden club meetings.
The Boomer comfort zone
I asked my grandmother if she was ever scared that Amazon is listening.
"I'm nobody," she answered. "It doesn't matter if they're listening."
She wasn't scared that if Amazon was listening, it would share her information. In fact, she assumed it would. She wasn't scared that Amazon would market more tailored products to her—she assumed that the company already does.
I asked my grandmother if she would put her credit card information into Amazon/Alexa so that she could order things online, and she gave me a resounding "No."
Not unexpected. However, her reasoning was surprising. Instead of being concerned with data privacy and security hacks, my grandmother continued to tell me how she enjoys going to the store, spending time picking out just the right art supplies, and catching up with the pharmacist.
This was difficult for me to comprehend.
Why would I spend any extra time going to the store when I could just do it from the comfort of my own home without ever having to pull out my credit card?
My grandmother reminded me that even though I might have saved a couple hours at the store, I was still spending most of my time staring at my screen.
Touché.
My grandmother also thinks that we can't do everything electronically, that we need to learn things organically, and savor our human relationships. "Some day," she said, "the robots will take over, and the human beings will not be in control. Humans will be nonplussed: What have we done?"
This is an extreme view of humanity's future. But she went on to stress how she hopes that younger generations will not subjugate human values to technological facility and that we will take time to contemplate and find empathy for others.
Sharing values
It's true that Alexa made it possible for me to help bring my grandparents into a more digitally enabled world to make their lives easier. They now use Alexa on a daily basis and can see tangible ways in which she makes their lives not necessarily easier, but certainly more entertaining. They are more empowered by their electronic devices than ever before.
Alexa also made it possible for my grandmother to show me that technology can't do everything:
• Alexa does not know how to have a conversation.
• She can't correct my grammar or reprimand me for bad manners.
• She can't brag about me to distant relatives.
• Alexa doesn't have empathy because, well, she's not a person.
The dichotomy that has emerged is that my technologically-driven millennial generation seems to know exactly what we want and when we want it. Baby Boomers can be frustrating for us because we want to be able to use technology to help our grandparents.
Conversely, the Baby Boomer generation has already taken many technological leaps in their lifetime and has endured with the strength of their values. They are frustrated when we post on their Facebook walls instead of just talking to them in person. (Although according to Gen Z, Facebook isn't cool anymore—more on that in another post.)
As I digest the reality that perhaps my grandmother will never be as big a fan of Alexa as I am, I wonder if the real value in Amazon's newest toy is that it allows generations to learn from each other.
As younger generations slow down to teach older generations how to use their beloved technology, older generations use this technology to share their values with the younger. The impact is a more enlightened worldview for all.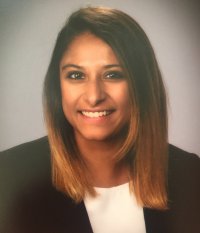 Latest from Amrita Vir
back to top