On-Demand Webinar: In-person and Remote Banking – Why this Hybrid Model is the Future of the Branch
Banks combine the brick and mortar physical banking experience with virtual banking
Webinar Overview
As consumers increasingly prefer to engage with their bank remotely instead of going to a branch location, institutions are looking to modernize the ways in which they interact with customers. Depending on the complexity of the banking activity, some consumers will use self-service digital channels while others will turn to channels where they can get human help. In a hybrid banking model, banks combine the brick and mortar physical banking experience with virtual banking.
In this webinar, OneSpan and guest speaker Alyson Clarke, Principal Analyst at Forrester Research, will discuss why hybrid banking will become mainstream and the importance of putting the right tools in place to support remote account opening, account maintenance, wealth management, and lending.
Topics include:
Developing a hybrid model to address new and evolving consumer behaviors in a remote-first world
Weaving human assistance into digital customer touchpoints for complex and lengthy interactions to deliver a more collaborative and engaging experience
Replicating in-person interactions through digital platforms that integrate e-signature, videoconferencing, identity proofing, and rich collaboration capabilities
Creating experiences that help customers complete remote banking activities in a single-sitting
How a hybrid model will build a stronger connection and loyalty with consumers over time
SPEAKERS
---
Rahim Kaba
VP Product Marketing, OneSpan
Rahim Kaba is a results-driven digital technology leader who has played a key role in advancing digitization initiatives at banks, insurance companies, and government organizations around the world. As VP Product Marketing at OneSpan, he leads the go-to-market strategy of the company's growing portfolio of digital identity and anti-fraud solutions. Throughout his 15+ year career, Rahim has been motivated by building great businesses through a deep understanding of the market, and finding new and innovative ways to address customer challenges using technology.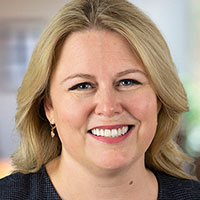 Alyson Clarke
Principal Analyst, Forrester
Alyson Clarke helps financial services leaders understand and prepare for the future. She is a highly skilled expert with extensive industry experience in both banking and wealth management. Alyson has global expertise, having worked in Sydney, London, San Francisco, and now New York. She works closely with retail banking and other financial services executives to develop and execute on strategy, deliver superior customer experiences, and digitally accelerate their business. Alyson challenges thinking to help financial services firms drive change and generate new business propositions that create value for customers and shareholders.
This webinar is brought to you by OneSpan
This Webinar is also brought to you by Banking Exchange Webinar Series
back to top