Who's winning mobile remote capture race?
Report cites Capitol One and BBVA, points to community banks' adoption and growth challenges
|
Written by Kathie Beans, freelance writer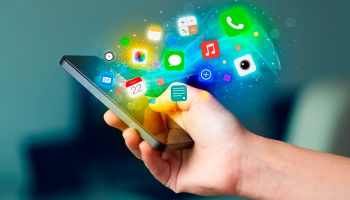 New report by Futurion compares 15 large-bank mobile remote deposit programs in depth and presents some troubling statistics for community banks.
Bank customers are more likely to make mobile deposits if their institutions offer user-friendly apps. Fees and unreasonable deposit limits depress adoption of this increasingly important banking channel, according to the 2016 Mobile Deposit Benchmark Report, released Sept. 14.
The study, conducted by Futurion, a fintech and digital commerce research firm, shows that customer experience rankings—not demographics—drive a direct correlation between adoption and growth.
The friendliest apps have no deposit limits nor service fees. Of the highest-ranking banks in the study, BBVA has no deposit limits at all and Capital One has a $10,000 limit. (Mitek, a global provider of mobile capture and identity verification solutions, sponsored the study.)
Source: 2016 Mobile Deposit Benchmark Report
The study also indicates that many bank customers who have mobile deposit capability use it infrequently. Six out of 10 online consumers have never deposited a check using their smartphone.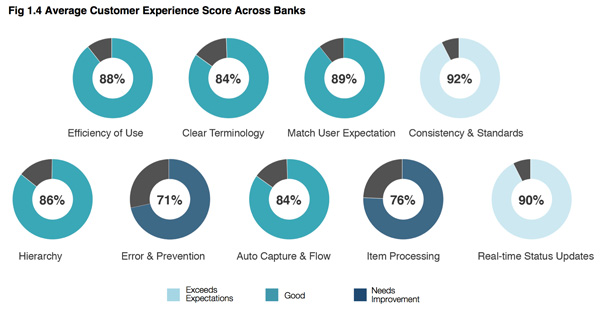 Source: 2016 Mobile Deposit Benchmark Report
Quality of experience varies widely
Futurion CEO Jim Van Dyke says customer experiences with mobile deposit apps are "wildly different" at the 15 top U.S. financial institutions included in the study.
The study found that Capital One provides the best overall customer experience, while BBVA, Bank of America, Fifth Third Bank, and Wells Fargo have exceeded the majority of their customers' mobile deposit expectations.
"Capital One is the ideal mobile deposit model for multi-channel banks, earning highest scores in nearly all of our 12 customer-focused categories that go hand-in-hand with achievement in our four customer adoption or usage metrics," the report stated.
Financial institutions ranked lowest for mobile deposit customer experience include Citibank, Navy Federal Credit Union, Citizens Bank, BB&T, and Regions.
"Citibank, a digital leader among giant banks, surprises with lower-third ratings in CX [customer experience] and risk policies," the report stated. "However, the bank strongly outperforms in adoption—for now at least—but must target improvements as growth is slipping."
Source: 2016 Mobile Deposit Benchmark Report
Overall, Van Dyke says parity is needed between digital, ATM, and branch channels. Whatever hold time is applied to deposits in the other channels should be applied to mobile deposits as well.
Van Dyke, who produced a large identity fraud survey report for Javelin Strategy and Research when he was its CEO, said mobile deposit technology is safe. He believes that deposit limits are unnecessary.
Customer loyalty driver
"Mobile deposit apps drive customer loyalty and banks that wish to remain competitive must secure high adoption rates by improving the customer experience with these applications," says Van Dyke in an interview with Banking Exchange. "This research shows that regardless of age, consumers will use mobile banking, but institutions can't just market their way around a second-rate customer experience."
The mobile deposit relationship impacts a customer's overall view of the bank, particularly because the experience varies so widely from bank to bank.
As customers talk to friends who have better experiences at competing banks, "banks get the opposite of loyalty," warned Van Dyke. In addition to losing customers, these banks will have more difficulty migrating people toward more cost-effective digital relationships. [Read "What's the payoff for investing in digital?"]
How to improve your mobile deposit apps
Van Dyke recommends that banks use this study to determine their weakest areas of customer experience and then use the study leaders—Capital One and BBVA—as role models.
The typical bank lags the study's leaders in areas such as error prevention and item processing.
"Those two areas are critical," says Van Dyke. "The flow around the application that helps you when something goes wrong is especially important for first-time, late-adopting users."
He recommends that financial institutions review the study to determine where they would have the lowest rating. Start on that area and build from there, using the top-ranked institutions as models.
Van Dyke also suggests that banks:
• Open an account at one of the leading institutions and experience the offering firsthand.
• Compare the experience to their own customers' experience to determine what they most need to improve.
• Pick two or three priority areas to work on.
• As the experience is improved, determine if customers are using the app more frequently.
• Reach out to customers using the app and ask for feedback—also a clever way to market.
Relevant for smaller institutions
Although the study collected customer experience information solely from 15 selected large multi-channel financial institutions, it also contains supplementary comparative analysis of mobile deposit adoption at the four largest banks, 20 regional banks, and all U.S. credit unions and community banks.
The data indicate that regional banks have gained much ground on large banks over the past three years, with the difference in the typical proportion of highly-active vs. inactive mobile customers varying little.
On the other hand, community banks are now at a disadvantage compared to regional banks, having experienced no net growth in mobile deposit adoptions.

Source: 2016 Mobile Deposit Benchmark Report
Meanwhile credit unions, with growth rates of 150% or more, are outpacing the giants and rivaling the later-deploying regionals.
Besides multi-page reports on the 15 large banks studied, the report includes a best practices section, that cites examples of steps winners have been taking.
The report speculates that customer experience or related pricing and risk-policy practices may be the cause of community banks' zero growth in mobile deposit adoption over the past three years.
Calling this finding "frightening," Van Dyke urges community banks "to apply the general findings of this study to their offerings and strategies so as to build on their inherent affinity advantage and ultimately win."
Mobile deposit won't be an option in the future, the consultant warned. He believes that those institutions that do not successfully deploy it will go out of business.
Download 2016 Mobile Deposit Benchmark Report [Registration required]
back to top