Snip, snap, branch gone
SNL Report: Over 300 branches cut, net. TD leads openers, PNC leads closers, in Q1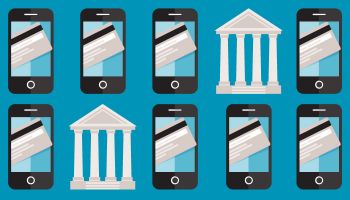 By Hina Nawaz and Tahir Ali, SNL staff writers
The U.S. saw 332 net bank and thrift branch closures in the first quarter as banks continue to trim costs and adapt to an increasingly mobile world.
From April 1, 2014, through March 31, 2015, the country's banks and thrifts opened 1,023 branches and closed 2,464 for a net loss of 1,441 branches. These totals exclude credit unions.
With 38 net closings, PNC Financial Services Group Inc. was the leading branch closer in the most recent quarter. Over the past four quarters, the bank had 55 net branch closures.
According to the company's recent earnings release, approximately 50% of consumers used nonteller channels for the majority of their transactions during the first quarter of 2015, compared to 49% in the previous quarter and 43% in the year-ago quarter. Deposit transactions via ATM and mobile channels also increased to 40% of total deposit transactions, compared to 38% for the fourth quarter of 2014 and 31% for the first quarter of 2014.
PNC's noninterest expenses decreased quarter over quarter partially due to lower branch occupancy costs as it converted 127 branches to a smaller, more automated format.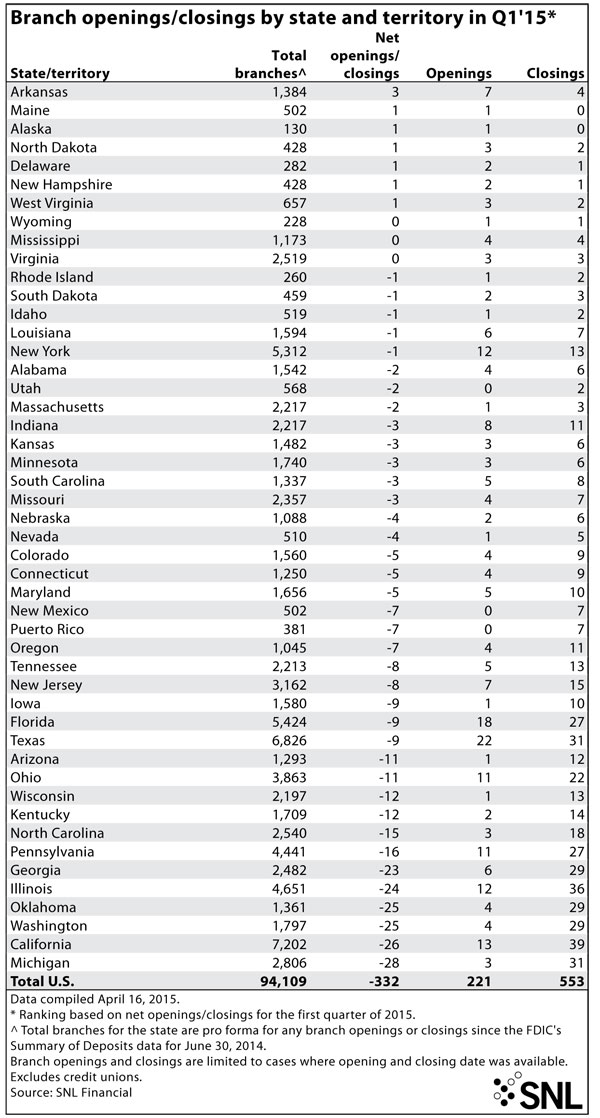 JPMorgan Chase & Co. closed 31 branches on a net basis in the first quarter, in line with the February announcement that the company would shutter 300 branches by the end of 2016. According to a transcript of the company's April 14 first-quarter earnings call, CFO Marianne Lake said that expenses in the company's consumer and business banking segment fell by 3% year over year due to branch efficiency improvements.
At the company's Feb. 24 investor day, Barry Sommers, JPMorgan's CEO of Consumer Banking, said that 45 million transactions, or 10% of total deposits, took place on a mobile phone in 2014, according to a transcript of the event.
Tulsa, Okla.-based BOK Financial Corp. closed 28 net branches in the first quarter as part of a plan to discontinue its in-store branching strategy.
"The decision comes as consumer trends lean more towards use of digital banking for everyday transactions and banking center visits for in-person advice or consult," BOK Financial said when announcing the move in November 2014.
Even with only four net openings, Toronto-Dominion Bank was the most active branch opener in the most recent quarter.
"It is not enough to build upon our existing strengths," Group President and CEO Bharat Masrani said at Toronto-Dominion's March 26 shareholder meeting, according to a transcript. "We must make them more relevant to our customers' evolving preferences. People expect their bank to be a tap away, a click away, a call away, a block away."
The bank opened two branches in the Miami-Fort Lauderdale-West Palm Beach, Fla., metro and another two in the New York-Newark-Jersey City, N.Y.-N.J.-Pa., metro area during the first quarter.
Michigan lost 28 net branches in the first quarter, the most of any state. Nineteen of those closures were JPMorgan branches, 17 of which were located in the Detroit metro area. Of those 17 branches, 16 were located inside a Meijer store.
All in all, 25 branches were closed in the Detroit metro area in the first quarter, including four Guaranty Financial Corp. (MHC) branches, two PNC branches, one Bank of America Corp. branch and one Huntington Bancshares Inc. branch.
Read an SNL Financial reprint of this article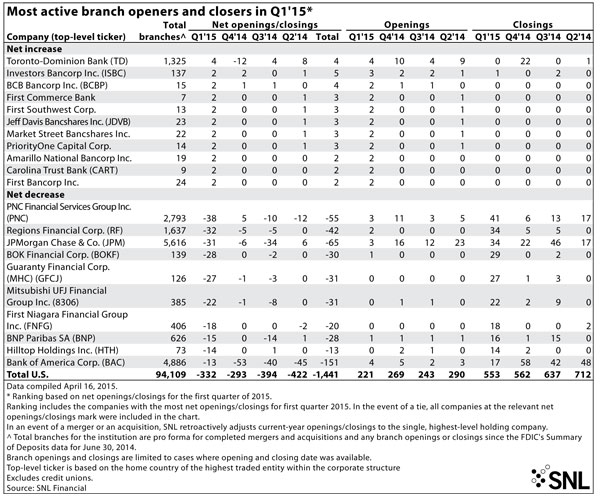 Latest from SNL Financial
back to top