How small bank makes itself "Heard on Hurd"
Citizens Bank uses social media and ingenuity to multiply small marketing budget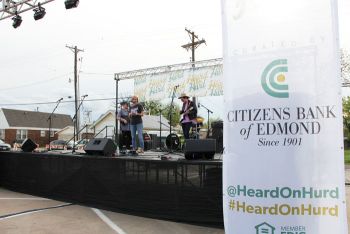 Citizens Bank of Edmond President and CEO Jill Castilla takes to the mike during the bank's "Heard On Hurd" concert and street festival. Social media makes the core of the bank's promotion of the event.
It's been a good long time since community banker Jill Castilla studied chemical engineering, but one basic stood her in good stead as she's continued to bring her bank out of some rough times.
When you mix the right elements, you can get a great reaction.
The Citizens Bank of Edmond, a $253.1 million-assets bank in a suburb of Oklahoma City, has turned around. Among other drastic measures was selling branches. The bank also slashed costs, and to this day, it can only afford to allocate a fraction of what other banks might to marketing and promotion. What it lacks in money, it now makes up for in officer and staff effort, ranging from "cash mobs" at customer locations to an aggressive social media presence.
Getting socially connected
Castilla had worked at the bank in the late 1990s and into the 2000s, and was asked back to help the family bank turn around. Last year she was named president and CEO. Her first experience with social media began during a session at an Independent Community Bankers of America annual convention.
The speaker was talking about Twitter. Castilla had been wondering how to get the word out that Citizens was back on track without spending a fortune on it. During the session she pulled out her smartphone, joined Twitter, and made her first tweet. She basically said the bank was back in business. The bank had recently emerged out from under its regulatory agreement, and Castilla wanted to share the news.
If you travel in banking circles on Twitter, it is hard to miss Castilla (@JillCastilla). She seems to come up as a follower or recommendation whenever you are on another financially themed Twitter connection. She has close to 6,500 followers of her own. The bank has two more Twitter accounts, CBE's Heard on Hurd (@HeardOnHurd), for its annual special community event, with nearly 1,800 followers, and @CitizensEdmond, the bank's main account, with over 2,000 followers.
The bank also reaches out through Facebook, Instagram, and, just recently, through the Periscope app that Twitter purchased.
In late June, the bank's social media activity came full circle, in a sense. Castilla hired Ann Chen, director of social media engagement at ICBA for almost six years, to come aboard as senior marketing officer at Citizens Bank.
Let's give them something to talk about…
Generating buzz on Twitter and other channels means more than just voicing an opinion. Castilla and her team set out to emphasize things local about Edmond and its environs. She says she was inspired by an Ann Arbor, Mich., community bank's own program, and by ICBA's urging members to emphasize local products and services. (Castilla says she's taken this so much to heart that no bank advertising discusses product or services directly—everything concerns the stories of bank customers.)
One such effort is "Heard on Hurd," a combined music and festival street fair the bank sponsors once a month during the summer. The bank makes all venues available free to artisans, food truck entrepreneurs (including "Oklahoma egg rolls," traditional Chinese treats, but stuffed with beef), and more, and sponsors the musical performances. "Hurd" is the side street to the bank's headquarters drivethrough, which lent itself to a campaign based on tweets and word of mouth.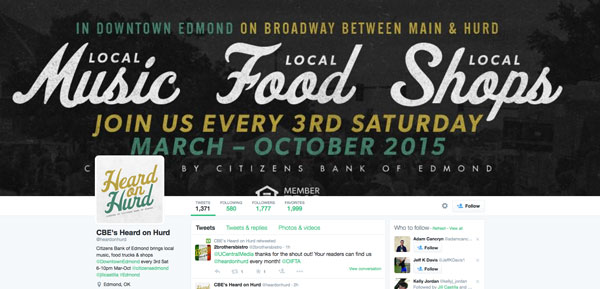 Castilla says the bank promotes Heard on Hurd exclusively via social media.
Besides the goodwill of the thousands of attendees, Citizens reaps a whirlwind of social media mentions because of Heard on Hurd. Castilla says that people tweeting photos and sending selfies out of the event spread the word. She and her team contribute their own mentions. During the most recent Heard on Hurd, the bank said around 4,000 connections to the provided wifi were made.
Spending towards recognition
There's plenty of visibility for the bank at Heard on Hurd, but the bank's name really stands out when social media channels begin carrying coverage of the bank's "cash mob" events.
The idea is simple, and pretty inexpensive. Periodically a customer business serving the public, such as a store, is selected. Bearing $5 or another appropriate amount in hand, every one of the bank's 60 employees is asked to buy at least that much from the business on a given day. Besides the bank's cash, employees often add their own money.
All this is done while wearing Citizens Bank of Edmond t-shirts. Employees get photographed in those shirts with the business owners, over and over, and put those photos out on social media.
The millennial factor
If you think the social media outreach helps with millennials, you're right. But the human touch also means something, Castilla insists.
"Millennials love knowing who they are doing business with," she says. "That's why they go to the farmer's market."
And they like to feel they are valued, says Castilla. This is where human engagement makes a difference. Employees will take business calls on their cell phones in off-hours and weekends, for instance.
Latest from Steve Cocheo
back to top