EMV on the front lines
First-person view: At chip's early use, some Target guests see red
|
Written by "Elizabeth Harvey," Target cashier*
|
Comments: DISQUS_COMMENTS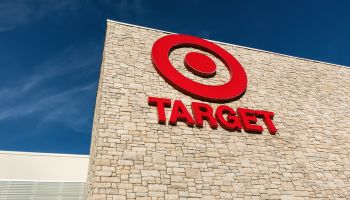 At the beginning of October the EMV liability shift went into effect and big box stores and some other merchants began using EMV-compliant equipment at the point of sale. We asked "Elizabeth Harvey," a Target cashier, to describe how implementation has gone on the front line.
Early in September, Target introduced its chip card payment process to customers, or "guests," as they are known in Target store parlance. As it turned out, the experience was more edgy than chillax in the days that followed at the big box retailer—or at least at one East Coast store in particular.
"This is slow, isn't it?" asked a nervous housewife of the 35-40 second transaction.
A moment more passed.
"I know I paid my bill, but I hope they know that," she explained.
"This is much, much slower," said a middle-aged man wearing the pained yet haughty expression of one not used to waiting under any circumstances. "It's ridiculous."
Another woman, seeking to be proactive, jammed her card into the reader before all her items were scanned, only to be informed, by a sudden, rude beeping, that she didn't in fact have a chip card yet.
"What a stupid system!" she snapped.
"Put the card in the reader and wait—for 15 minutes," muttered another man just yesterday, which was well into October.
As a Target cashier, I have been a front-line witness to a major payment systems transition. This is the slow, antagonistic-seeming, and ugly side of the chip system throughout the chip reader's introduction, as ordinary mag-stripe, swipe-paying consumers were at times baffled, or simply annoyed as heck to deal with the customer end of an interface that they'd glanced at but ignored for years.
Good training, and yet
All of us cashiers were trained to guide the guests through payment: the chip card was to go (chip side in) into the bottom of the reader and stay in place until the authentication was completed. The messaging on the interface would indicate when authentication and payment processing had occurred and the card could be removed.
According to the multi-section online training manual (added to Target's full suite of training modules for all jobs in the store), this was simply a matter of providing the guest with clarification and guidance.
Yet, even after being shown, plenty of guests who returned days or a week later wanted to slide their card—as if on autopilot—or push the card in and out of the chip reader quickly, in an approximation of the swish through that they were used to doing for decades. (The quick in, quick out is what consumers often encounter at the gas pump, but that's not the way chip card readers work.)
Tick, tick, tick …
"It's much slower, but I guess that's the chip," said a bright-eyed boy of 11 observing the card work its magic one day late in September. During the entire length of his mom's checkout—some $500 worth of fall and winter clothing, toys, and groceries—he chatted at me steadily, and asked if I was 1. a grandmother; 2. a mother, then; and 3. Did I have a dedicated man in my life?
Amused, I had answered as briefly as I could while bagging, scanning, and praying that nothing would go wrong with the chip card process.
His face broke into a beatific smile, "Well then, you can play MineCraft then." He held up a box still on the remaining heap of items to be scanned. "It will take you a year to get good. But you'll have the time."
Not exactly. If you've ever wondered what it's like to be a Gen X Target cashier, I'd say, "It ain't easy."
Think of it as a virtuosity act of sales and service multitasking, with plenty of oddball interruptions and oodles of banter tossed in. This last element is the "vibe" that is designed to make guests feel appreciated and, with luck, transform non-Target red card holders into new card recipients.
If you are 18, 20, or even 25, I'd suspect that surfing among these sporadic, syncopated, and often loud set of processes is no big deal—you can talk and scan and get interrupted three times by other guests or management or town people who know you and want to say "hello," and keep the flow, despite being timed.
It's probably similar to how this demographic experiences school, texting while doing homework, texting while eating, and so on.
Mind you, "vibing" with the majority of guests can be fun. Then there are those customers who are slow payers or worse, and dent the vibe. They include the rude complainers, the paranoid deal seekers, the over-the-counter bag reachers, the bag lecturers ("Please, fill them. Please leave them light. Please understand, we have to save the environment." ) And so forth.
And now, here was the chip card doing its part to confuse the masses.
Public isn't sold on chips
The chip card wasn't exactly new news. Chip rollout had been discussed on TV news, written up in newspapers and online, certainly discussed in trade press circles. And, for the international set, these cards have been a reality for at least a decade.
And yet, for about half of the people I've checked out since the launch, the chip was experienced as a big unknown or of no particular benefit.
Some customers even believed that this was something created by Target alone, in response to the security breach it experienced in 2013, rather than a U.S. payment industry initiative adopted by big boxes that include Sam's Club and Walmart.
And, from where I stand, for my shift, another wrinkle: In case you didn't know it, Target, like other retailers, measures the speed of its cashiers, and the chip card wreaks havoc with our carefully cultivated numbers.
In other words, we don't much like the wait, either.
As Halloween approaches…
By the week before Halloween, much had settled down, though plenty of people would forget that they had a chip card, the unobtrusive looking chip lost in the card design or unseen even when blatantly positioned in a sea of contrasting color.
And nervousness often still prevails. The anxiety of something new or the anxiety provoked by the act of paying itself? Hard to say.
Editor's note: "Elizabeth Harvey" is a pseudonym.
back to top