"Alexa, pay my mortgage"
Voice assistants join the retail arsenal at several banks
Ally Assist lets customers use voice or touch to make queries. Meanwhile, Capital One has been adopting Amazon's Alexa.
Picture a world where voice allows you to control your thermostat, lights, or fridge temperature, and to pay that bill you almost forgot.
This may seem far-off, but it's closer than you think as technology advances each year. Virtual assistants, like Apple's Siri, Microsoft's Cortana, and Amazon's Alexa, are the first steps toward a future where we interact conversationally with our internet-connected devices—otherwise known as the internet of things.
Amazon and Capital One Bank announced in March that Capital One customers could check balances using Amazon's Alexa. In July, the bank added access to auto, mortgage, and home equity loan account information.
Beyond that—and the fact that Apple will open up its Siri platform to developers this fall, which could lead to similar developments—banking applications of these high-profile virtual assistants remain mostly in the future. Yet financial institutions and financial technology companies continue to investigate the uses of voice, and some already offer voice assistants of their own to customers.
But is this something customers are demanding? Not necessarily. "Customers have demanded a better experience. I wouldn't say we have customers coming in asking for voice-enabled technology," says Chris Nichols, chief strategy officer of $5 billion-assets CenterState Bank of Winter Haven, Fla. Nevertheless, the bank continues to investigate voice technology.
A handful of other banks have taken the leap to actually roll out voice assistants. "A lot of what we do is really to anticipate our clients' needs—sometimes before they even realize the needs themselves," notes Vinay Venugopal, vice-president of IT strategy, research, and development at almost $38 billion-assets Tangerine Bank, a direct bank in Toronto, Ontario, in an email. "As new devices with limited or no visual interfaces come into play—like smartphones, wearables, and automobiles—it's increasingly important to think differently about how to enable efficient interactions with those devices."
Unlike integrated voice response systems—some of which use voice recognition—virtual assistants are much more sophisticated and don't rely on pre-set menu paths, observes David Albertazzi, senior analyst at Aite Group.
Four categories of use
Voice assistants are being used in a variety of ways, but four categories stick out: search and retrieval, education, problem resolution, and revenue generation.
• Search and retrieval. Users are turning to voice assistants for basic information. By simply asking a question, they have their answer without having to toggle through multiple screens or the interface of a bank's mobile app. This is especially useful for people on the go.
Both Ally Bank's Ally Assist and Tangerine Bank's Voice Banking allow users to ask everything from simple questions about account balances to complex inquiries on detailed account and transaction information or even spending patterns. The assistants also can be used to trigger an action like bill pay or money transfers.
Ally Assist, which works with both touch and voice, offers customers a predictions feature that can provide useful solutions and information. Predictions are presented to users when they access Ally Assist, and they may also pop up when they click on certain transactions. Predictions can assist in identifying a charge, draw attention to out-of-the-ordinary transactions, and give users a low-balance warning.
"[Predictions] is actually the most used function in the tool," says Carrie Sumlin, digital consumer executive at $110.6 billion-assets Ally Bank in Midvale, Utah. "There's more insight that a consumer can get around their spending and savings as they use the tool that's different than what they would experience in the other channels or other tools that we offer."
• Education. Many questions users ask voice assistants pertain to a bank's products and services. This educational component even influences the user base. While Tangerine and Ally say a broad cross-section of their client bases use voice assistants, Ally has observed that there are a greater number of new customers using the tool—the group most likely to seek out information about Ally's offerings.
That first interaction with a financial institution—opening a checking account, for example—is still done 73% of the time inside a branch, notes Albertazzi, but the percentage is falling.
"We've seen the transactions migrating out of the branches, migrating out of the call center for more automated, self-service channels," he says. "Today, digital represents about 23%; 4% would be using the call center."
• Problem resolution. The expectation is that simple problems, like a card activation or a missed payment, will be taken care of via a voice assistant versus calling in or visiting a branch—leading to time and cost savings for the bank. But voice isn't likely to take the lead on more complex problems, like a lost or stolen card.
"I don't think we'll ever be in a position where voice assistants will replace face-to-face interactions or even other customer service interactions, like secure chat or [someday] chat bot interactions," says Venugopal. "At the end of the day, people want to know that they're being taken care of by a human being."
• Revenue generation. Voice assistants accumulate data on customer transactions and interactions with a bank. Whether or not a bank can leverage this data to offer customers better products and services could determine if a voice assistant generates revenue.
However, banks need to offer value up front. "There has to be a clear offer from the financial institution to say, 'If you allow us to access all this personal, intimate data about you, then we will make sure that you save thousands of dollars and that you can spend more therefore or invest more in things that will make you live your life better,'" points out Chris Skinner, consultant, speaker, and author of ValueWeb (his most recent book).
Hurdles to clear
The benefits of voice assistants are many, but so are the hurdles to adoption. For one, the technology is sophisticated and not something many banks can produce in-house. As a result, they partner with third parties, as Tangerine did with Nuance, and Ally did with Personetics.
Implementation also can be difficult. Many banks struggle with how to ensure an update made via a voice assistant is reflected across all other channels.
"Traditionally, banks have been working in silos, different channels—the branch, the ATM, digital banking," says Albertazzi. "Now, they're really focusing on trying to bridge that gap. The whole concept of omnichannel banking is starting to become more important," he adds, "but more and more, the systems are becoming real time, or there is a way to update the information across all of those different systems."
As a direct bank, Ally built its system with integration in mind. "We have, really, one system of record that is our core deposits system, and all of the channels access and update that same core deposit system," explains Sumlin.
Biometrics help
Securing customer data is important with voice assistants. "Banks tend to start at low-risk transactions," Albertazzi points out. "Once they get comfortable with the system and all of the implications, then they can move to the next step."
Banks are making sure things like biometrics are in place to safeguard data. Tangerine uses passive voice recognition, voice authentication, and fingerprint recognition. Plus, Voice Banking can't be accessed unless a user is logged into the bank's mobile app. Ally Assist can be accessed only from the Ally mobile app. The app uses multifactor authentication, and customers have to register their devices and use a one-time pass code, if prompted. Customers also can choose to authenticate using touch identification.
Most voice assistants offer the option to type out information rather than speak it to avoid saying aloud account numbers or other sensitive information.
Divining the future
The crossroads between how talk and text will fit into the internet of things is what banks are moving toward. Sumlin sees room for both and believes customers will want a choice. Skinner believes voice will be the long-term objective. "The keyboard is not a natural user interface," he says. "But it'd be far better if you could use voice, visual, oral, and audio contact with technology to have natural human interfaces."
Either way, it's clear that this connected future offers opportunities for banks. "I'm pretty sure that one day soon, our clients will be able to talk to their refrigerator to order more milk and pay directly from their Tangerine bank account," says Venugopal.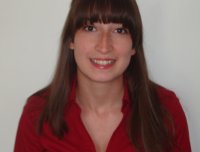 Latest from Ashley Bray
back to top