Four Lessons Banks Can Learn From GE Under Jack Welch
Under Jack Welch, GE grew into one of the world's most admired companies.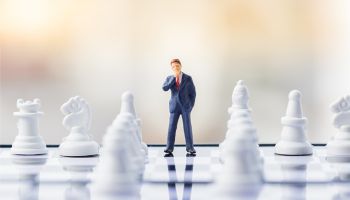 Under Jack Welch, GE grew into one of the world's most admired companies. The company grew in revenue and profit over many years. It was not simply due to running the business efficiently, or even just betting on the right businesses, but Welch had analyzed the businesses and took key steps to achieve sustainable success over a long period of time by making bold moves, establishing a winning culture, expanding its business at the right time, and developing a learning organization.
DECISION MAKING SEQUENCE
One of the keys to Welch's success was not only the decisions he made, but the sequence of the decisions. Welch started with analyzing the firm and set a very clear direction for analyzing each business and focusing on efficiency. He established a clear set of criteria for GE's businesses in that they either needed to be first or second in its field, or had to develop into that position. Each business head knew that if the businesses were not profitable and in a leading position, the business either needed to be fixed, sold or closed. As a result, between 1981 and 1990 GE sold off over two hundred businesses, but at the same time acquired 370 different businesses spending $21 billion. While the company did not grow substantially in revenue in the beginning, it grew in profit and became extremely efficient through cost and personnel reductions. Welch led by example by cutting costs in the strategic planning staff by 50% setting a trend throughout the company.
SMALL BUSINESS CULTURE NO MATTER THE SIZE
After making GE efficient in cost and competition, and Welch was satisfied with the type of businesses they were in, he focused on designing and creating a desired culture and management approach by analyzing best practices both within the company and industries, as well as outside the company. He led the company to have more of a small business culture with a desire to get bureaucratic work out of the GE system. He streamlined reporting so that the company was less hierarchical and implemented programs such as the Work-Out program where employees presented ideas to their department heads and bosses were freed, but also forced, to make decisions on business proposals. In essence, Welch was relentless in making change and challenging the status quo. He created an inclusive culture where managers were forced to listen to ideas and decide if they should be implemented by breaking down barriers to innovation.
It is important to think what may have happened to a company like GE if they stayed a more traditional bureaucratic company during the 80's and 90's, a time in which the personal computer and the internet transformed businesses. It could have very well flattened or declined without an emphasis on sharing ideas, making decisions and embracing change. They could have just stayed with a low cost advantage strategy of just being efficient with its business without taking chances. They may have been able to grow through acquisition and cost cutting, but the company would not have had the type of growth without innovation.
TAKE CHANCES ON NEW INITIATIVES, BUT TIMING IS CRUCIAL
As much as the vision casting and the cultural changes helped GE be successful, Welch was extremely systematic and knew when to make the right moves. For instance, Welch waited to make sure that GE was strong in its home country, but then expanded GE's strategy and value proposition to be global in 1986. As one of his managers stated, "It is very difficult to jump into the world arena if you don't have a solid base culture." Once the solid base was created and the company was healthy, that is when they made the move to expand its customer base into the global market. In recent years, GE's profits have come more outside the U.S. than inside the U.S., so he anticipated the need to expand over time. Many companies have attempted to be global at the wrong time in the company's development, and have had to retrench. Additionally, companies have also feared expansion and have found their local market dry up. GE seemed to avoid both scenarios through carefully planning, but at the same time the boldness to take chances when the time was right.
Once again, had they stayed with a low cost strategy and not a growth strategy, the company would not have gone global. Since this is where there were some of the best opportunities for growth, the company would have missed the ability to diversify into new markets.
DEVELOP A LEARNING ORGANIZATION
Lastly, Welch focused on developing a learning organization and making sure that he had the right people in place to not only be successful on a profit basis, but also in reflecting the GE culture. He invested in a specific training facility where there was a sharing of information and best practices, but it also turned into a place where executives shared ideas, strategy and innovation. In his analysis of management, he would look to see what managers were unsuccessful in reaching objectives and did not buy into the GE way, and weeded them out. He looked at those that were not successful but bought into the GE culture, and tried to develop them over time. However, the most interesting category he focused on were those that were successful in reaching numbers and goals, but did not buy into the GE culture. Welch had the foresight to not just focus on the bottom line, but to think what effects certain people may have on the overall organization. He knew that in order for the company to be successful leaders needed to project the values that the company stood for in order for others to be inspired and to buy into the vision of the company. Rather than focusing on development, Welch could have decided to take the strategy of buying senior executives that were already trained to do what the company wanted to execute on. However, if he did not develop a learning organization, GE could not have shaped a specific culture and type of executive that made the company successful.
By transforming the culture to be more entrepreneurial and change driven, Welch fended off the risk of being a large company that was not ready for decades of rapid change in the business climate. Welch also expanded the GE strategy on a global basis, which was critical to profit growth in the years even after he stepped down. Without clear direction and innovation, GE would not have expanded and maintained its leadership position in its various businesses. He was relentlessly focused on developing and implementing a culture and a winning strategy, and developing the people that could best execute on that vision.
back to top