Bold Move by BB&T-Suntrust Bank to Become Truist Financial
The companies' joint announcement emphasized a desire to start fresh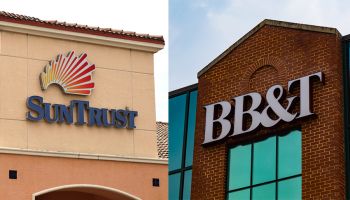 SunTrust and BB&T announced that Truist Financial will be the name of the bank after the merger is complete at the end of 2019. The companies' joint announcement emphasized a desire to start fresh, with a new brand name that could be easily recognized.
While both banks had strong name recognition particularly in specific regions of the country, the new entity will invest in marketing dollars in order to establish the new brand.
Some marketing analysts claim that it is a bold move as many financial mergers hold on to both brands for a time. However, that does not always work out either. After the merger of Nuveen by TIAA-Cref, for instance, the company struggled with which brand to lead with in specific markets. Nuveen was better known in the mutual fund industry, but domestically TIAA-Cref was widely known for public pensions and 403(b) plans.
The new headquarters will be in Charlotte, North Carolina where other banks of its size operate. When SunTrust and BB&T first announced the merger, it was positioned as a "merger of equals." A Wells Fargo analyst, unsurprisingly, weighed in with skepticism stating that "It is safe to say that there is zero name recognition for Truist at the moment, reflecting the challenge ahead." However, the advantage of building a new name is to position the Bank in a new way uninhibited by old baggage from previous names.
While the criticism of the new brand was quite harsh on social media, initial reaction from customers or market research as to how a brand will be received in the long term often has little impact on the outcome. For instance, before Starbucks went into Europe most European coffee lovers would state that an American coffee company with a business model like Starbucks could never thrive on the continent…and the coffee lines are now out the door in European cities just as they are in New York and Chicago.
What matters more is how Truist Financial will position itself in the marketplace once they merge. The opportunity is great for a large bank to start fresh with a new message in an industry in transition. Remaking a brand or merging a brand can prove just as complicated and even more costly than starting over….just ask TIAA, or Nuveen, or for that matter Wells Fargo.
back to top