Bank-Fintech Partnership Targets Cashless Canada
DCBank and XTM want to place cashless kiosks in retail venues – but is a cashless society a realistic aim?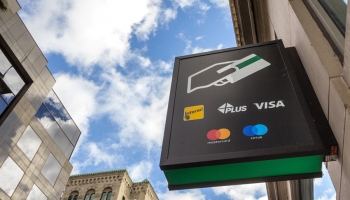 Canada's DCBank has partnered with Toronto-based fintech company XTM to facilitate cashless transactions throughout the country's sports venues and shopping malls.
The two companies announced last week that they would be providing new kiosks in business premises and retail venues where consumers can exchange up to C$1,000 (US$737) in cash for a prepaid Mastercard.
In a statement, DCBank and XTM said the development would help companies reduce their reliance on cash.
"With COVID-19 concerns surrounding cash, employees and employers want to eliminate the need to accept or dispense cash but do not want to alienate customers or turn away business," the companies said.
XTM added that it was in discussions with "multiple parties including large stadium venues, restaurants, large shopping centers and big box retailers". Some were planning to subsidize card fees as "cost savings and safety factors of eliminating cash outweigh the nominal cost of the card", it said.
Measures taken by governments around the world to reduce physical contact between people and stem the spread of the COVID-19 virus have resulted in a fall in cash-based transactions.
Data collected by Statista and LearnBonds.com in a February report forecast that the use of smartphone-based point-of-sale payment apps would hit US$2 trillion in just three years. The two firms also released a report in January predicting that global digital payments would hit US$6.7 trillion by 2023.
The global card and payments market is expected to hit almost US$1 trillion by 2023, according to a report by the Business Research Company from April this year, boosted by the effects of the pandemic.
However, moves towards a completely cashless society face many headwinds. A recent Deutsche Bank study, conducted before the pandemic, found that US consumers were reluctant to embrace such a shift.
A third of Americans named cash as their favourite means of payment, with 11% planning to use even more cash, the study reported.
The Federal Deposit Insurance Corporation estimated that cash accounted for just 30% of all transactions in the US in 2017 as card- and mobile-based payments increased in popularity. In addition, card companies have moved to facilitate smaller payments through contactless technology by reducing or eliminating fees.
However, research commissioned by payments firm Square and conducted in 2018 found that half of small business owners supported government bans on companies going cashless, while 83% said they would never remove cash transactions from their operations.
In addition, the Pew Research Center reported that 75% of American adults made some or all of their weekly purchases in cash in 2018.
back to top