People's United Bank Creates Digital Team
Plus, Sterling National Bank has rolled out an artificial intelligence-driven "digital colleague" for its online offering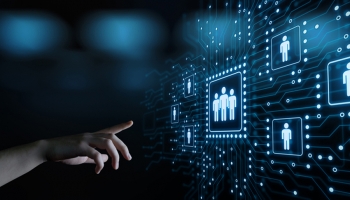 Northeast-based regional bank People's United Bank has formed a new "business transformation office" to focus on digitization and technology development.
Ravi Vakacherla has been appointed chief transformation officer and will lead the new team, the bank said in a statement.
The team will be responsible for optimizing and automating back office processes as well as setting up partnerships with financial technology companies.
Vakacherla and the business transformation office (BTO) will also support the bank's product strategy and management, People's United Bank said.
"The digital age of banking that has emerged over the past decade has changed the way people interact and do business on a day-to-day basis, and technological advancements are influencing the future of banking," said  Jack Barnes, CEO of People's United Bank.
"As we continue to evolve our service model, the BTO will ensure we remain focused on continuous enhancements and personalization of customer touch points including online and mobile banking, ATMs, call centers and in our branches, to provide customers with digital experiences that are custom-made, seamless, fast and secure.
"The BTO is a reflection of People's United's ability to innovate and reconceptualize our offerings in an efficient way."
Lee Powlus, chief administrative officer, added that the new team would "ensure that our strategic plan advances us into the next decade and provides a competitive advantage in delivering customers our products, services and expertise".
"It's clear the next three years will look much different than the previous three, and we must do our part to retain and attract new customers and adapt to customer preferences," Powlus said.
Elsewhere, New York-headquartered Sterling National Bank has partnered with IPsoft, an artificial intelligence (AI) specialist company, to introduce a "digital employee" to its online offering.
The service, known as Amelia, will see a "cognitive AI digital customer service colleague" named Skye introduced to the bank's online platform to authenticate customers and provide them with information, account updates, and assistance with digital banking.
In a statement, Sterling National Bank said the technology would free up contact center agents to deal with more complex interactions.
IPsoft said Skye would be able to "scale and resolve" more than 50% of calls to the bank's contact centers, engage 100% of incoming customer calls, and "provide automated self-service for more than 3 million customer calls each year".
"Given Sterling National Bank's growth trajectory, it was critical for us to significantly increase our bank's digital footprint to ensure that both our customers and colleagues continue to have positive experiences and valuable interactions," said Luis Massiani, Sterling National Bank president.
IPsoft CEO Chetan Dube added: "During this challenging period where many bank branches remain closed all across the world, it has never been more important to have a scalable customer service solution to ensure that our limited ability to interact in the physical world doesn't prevent customers from conveniently managing their banking services."
Banks are increasingly looking to new technologies to boost their growing online and mobile banking customer base. Earlier this year, fintech company Fiserv unveiled a "virtual banking assistant", an AI-based interactive tool to help banks and credit unions manage virtual customer transactions.
back to top