Branch Business: Horizon Buys 14 Huntington Sites
Plus: First Bank to acquire two OceanFirst branches, Bank of Southern California adds Westlake Village premises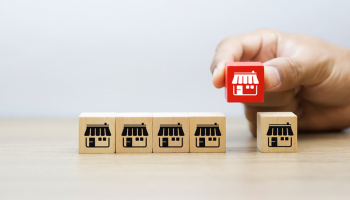 Indiana-headquartered Horizon Bank is to acquire 14 branches from Huntington as part of the latter's deal to buy TCF Financial.
Horizon is taking on approximately $976 million in deposits and $278 million in loans serviced through the branches spread throughout Michigan, according to an announcement from the bank published today. It is adding more than 50,000 retail and small business accounts.
Craig Dwight, chairman and chief executive at Horizon, said his team had been working to get the branches integrated into its network by mid-September. "We look forward to offering our robust line of products and services – including all the online and digital banking conveniences we know customers expect today – backed by the personal service we believe is still unique to community banking," he said.
The sale of the branches by The Huntington National Bank was approved by the Federal Deposit Insurance Corporation last week. They were previously operated by TCF National Bank, a subsidiary of TCF Financial Corporation. TCF and Huntington announced their merger agreement in December 2020.
Elsewhere, New Jersey-based First Bank has agreed to acquire two branches from fellow East Coast banking group OceanFirst Financial.
First Bank will take on deposits of approximately $124 million as of June 30, 2021, as well as a loan book worth $14 million.
According to a statement issued last week, existing staff will become employees of First Bank. The affected branches will continue operating as OceanFirst Bank branches until the transaction is approved by regulators and completed, which is expected in the fourth quarter of this year.
"This transaction enables First Bank to realize additional scale in our targeted service area and acquire long-term low-cost core funding 35% below our current cost of funding, along with providing an opportunity for long-term value creation," said Patrick Ryan, president and CEO.
Meanwhile, Bank of Southern California has expanded into Ventura County through opening a full-service branch in Westlake Village.
Chief banking officer Richard Hernandez said the new premises supported the bank's "efforts to expand our network and presence in the region". He added: "Westlake Village is attractive, not only because of its proximity to the Bank's existing footprint, but also because of the number of businesses in the region left unserved by larger banks.
Finally, People's United Bank has reached an agreement with supermarket chain Stop & Shop to keep 27 in-store branches and ATMs in Connecticut open. They had previously been slated for closure as People's United had decided not to renew related contracts in Connecticut.
The locations are based through New Haven, Middlesex, Fairfield, Litchfield, Tolland and Hartford, according to a press release.
The bank – which is close to completing its merger into M&T Bank – still plans to close almost 100 other Stop & Shop outlets in Connecticut, as well as more than 40 in New York. It has closed 15 so far this year, based on figures from press releases in January 2021 – which stated 140 Stop & Shop locations – and August 2021, which said there were 125 locations. The bulk of closures are due to start next year.
back to top