"Keep the Ball Rollin' "*
Recapping October's 2015 FATF plenary and continuing AML/CFT issues to ponder
With a nod to pop music, veteran John Byrne's blog scans the anti-laundering and anti-terrorism world. John pierces silliness and inconsistency, and strongly believes in private-public partnership.
Last week, the Financial Action Task Force (FATF) met in Paris for their plenary session, and covered a whole host of issues that are extremely important to AML professionals throughout the globe.
While this statement may seem obvious, it isn't always the case that so many topics are so current and vital to our community. De-risking, identifying foreign terrorists, guidance for regulators on the risk-based approach, and an important update on emerging terrorist financing risks were covered during the three-day summit.
I've put together some highlights about the statements and reports given at the plenary—and some thoughts regarding what they may mean.
De-risking debate grinds on
On de-risking, there are still no solutions, but there is, perhaps, recognition that the problem is not one-sided.
As some of you may know, I remain disappointed in the manner in which exiting, onboarding, and retaining accounts is addressed by some in the AML community. There doesn't seem to be a recognition that the financial sector is, in large part, reacting to the uncertainty of risk in 2015.
Fortunately, FATF issued a statement at the plenary that points out:
"The drivers of de-risking are complex and include: profitability; reputational risk; lower risk appetites of banks; and regulatory burdens related to the implementation of anti-money laundering and counter-terrorist financing (AML/CFT) requirements, the increasing number of sanctions regimes, and regulatory requirements in financial sector."
The key here is that FATF gives equal weight to the concerns of the private sector. (Note: ACAMS is planning an event that will go into great detail on this important debate—and hopefully will address the ongoing problem of financial "exclusion.")
Among other goals for 2016, FATF promises best practices on customer due diligence (CDD) which aims to strike a "balance" with AML/CFT objectives.
The AML community awaits…
Risk-based approach: Can it now actually happen?
Compliance professionals constantly hear about the need for the risk-based approach and most feel it is an empty promise.
FATF has taken on this subject. It has published guidance, "Effective Supervision and Enforcement by AML/CFT Supervisors of the Financial Sector and Law Enforcement" that makes clear that there should be no "tick the box" approach to supervision and that if weaknesses are discovered, FATF supports a "proportional range of remedial actions."
Such a refreshing concept…
Emerging terrorist financing risks: Harder to keep up!
Another report released during the plenary covered "traditional" forms of terrorist financing and how they are being adapted with new tools. (Note: Using the term "traditional" with terror funding makes me sick.)
For example, foreign terrorist fighters are still self-funded but the speed at which they get access to monies is increasingly at a dangerous pace.
The bad news is the ease of which social media is being utilized to raise monies. But there is hope, as FATF notes the increased use of financial intelligence as well as private-public partnerships to stem this new stream of funding.
The report also looks at the use of natural resources by ISIL and other terrorists and new payment methods; both areas which will continue to be researched and outcomes disseminated to the financial sector.
Going forward: "Keep the Ball Rollin'…"
FATF participants and the global AML community were promised more assistance in the form of additional studies and reports.
Interestingly, the age-old challenge of the physical transportation of cash will be the subject of upcoming guidance to assist with border control. Also, as we continue to read about the value of data, metrics, and other forms of statistics, FATF notes the future release of what constitutes high quality statistics.
Stay current and sign up for FATF updates.
Thanks to an AML veteran!
Next month, an AML partner who provided the community with her views, expertise and support for improving the ways by which we all try to detect, report, and stop money laundering will be retiring.
Margaret Silvers, currently with Wells Fargo, volunteered for every difficult project I needed her for while we dealt with legislative and regulatory proposals during the 1990s and after 9/11. Always generous with her time, Margaret improved every conference that she participated in and added so much to the AML community during her career.
A "thank you" is not enough.
Margaret, we owe you a great deal…
The rest of us will keep the ball rollin'…
* "Keep the Ball Rollin," a #14 Billboard hit by Jay and the Techniques in 1967.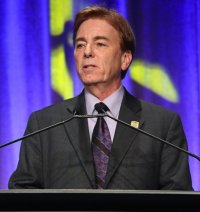 Latest from John Byrne
back to top