"Us and Them" *
More than a battle of words, the AML community can greatly aid the ongoing response to terrorists
At this posting, the Eiffel Tower, international symbol of Paris, is darkened and closed to mourn the victims of the terrorist attacks. In this blog, John Byrne discusses how social media and crowdfunding have been perverted for terrorists' use.
With the clearly planned attacks in Paris last week, society needs to rethink how we can respond to terrorists who have no regard for human lives—including their own.
We rightly leave the international security issues to governments. However, AML professionals can do their part by continuing to stay current with the many new areas where funds can be acquired, distributed, and hidden from authorities.
Social media and terrorist funding risks
Having written recently about the various outcomes of the October 2015 FATF plenary, in "Keep The Ball Rollin'," I want to return to one area covered in the report on emerging terrorist risks—the misuse of social media.
Many of us use social media channels as a marketing, informational, and recreational tool. We communicate articles and products for our firms, associations, or agencies. Some of us also enjoy sharing our support for sports teams, politics, and other diversions.
However, terrorists have become much more adept at using the same social media to spread their distorted view of the world and to recruit. So, we need a better response. At a minimum, all of us on Twitter and other vehicles should communicate reports and other papers that rebut the poison that terrorists disseminate.
FATF outlines how foreign terrorist fighters (FTFs) use social media to document their experiences in conflict zones and also raise money. One of the case studies refers to a Facebook group on recipes for women that included a plea for equipment, food, and pharmaceuticals for a Syrian fighter. The notice even included information regarding the account at a German bank where the funds could be sent.
Do AML professionals need to monitor for these types of activities? We know many law enforcement and financial intelligence units (FIUs) do, but it is unclear what the private sector can do.
But we need to be aware—that much is clear.
The report also covers broader fundraising through social media that includes Facebook, Twitter, and Instagram. The outreach typically begins in chats and forums, migrates to the sites mentioned above, and can continue in various mobile applications.
Crowdfunding: Know for sure what you support
FATF experts point to "crowdfunding" as a new way for terrorists (and, frankly, garden-variety fraudsters) to collect "donations" for illicit purposes.
Similar to social media, crowdfunding was developed as a positive way for individuals, businesses, and other organizations to raise money. However, terrorists often mask the real reason for the funding and turn the process into assisting something evil.
For example, donors may think they are aiding a humanitarian cause but the funds get transferred to a completely different end. A byproduct of crowdfunding also identified by FATF is the ability to transfer funds abroad, "avoiding regulated financial entities."
The case study listed an example from Canada where the FIU was investigating an individual who used crowdfunding sites prior to attempting to leave the country. An institution given that information by law enforcement was able to discern the use of that site for a subsequently filed suspicious transaction report.
So, should these crowdfunding sites have obligations to monitor how their systems are utilized? My personal view: a resounding "yes."
FATF does note that sites such as Twitter have "stepped up their efforts to suspend accounts" that were clearly used to communicate terrorist propaganda. That is good to know.
But what about the others?
While FATF acknowledges that there are some social sites and crowdfunding campaigns where the donors did not know the end use of the funds, there now should be much more awareness of the false advertising or use of ambiguous language that are designed to take advantage of the public's desire to assist those less fortunate.
We need more public campaigns, such as those offered on identity theft, elder abuse, and other frauds.
Bottom line—we need to pay attention!
A FATF request for input
Related to the misuse of crowdfunding, FATF is asking for public comment on the revision of the interpretative note to Recommendation 8, regarding non-profit organizations (NPOs).
Charities are without a doubt vital to society. But sadly terrorists use that fact to collect and distribute monies from sincere donors and instead fund all forms of attacks against humanity.
Action Item: Because financial institutions need as much data and intelligence as possible to inform banking type relationships, review the note and provide comments to FATF by Nov. 27.
Ladies and Gentlemen, as we did after 9/11, the AML community can—and will—do more. Society depends on us.
* "Us and Them," from Pink Floyd's 1973 "Dark Side of the Moon"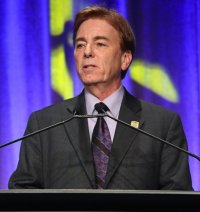 Latest from John Byrne
back to top