Credit Card Volumes Fell as Pandemic Hit: ABA Data
Spending fell as the economy closed at the end of Q1 2020 and consumers sought to be "diligent" with debts
|
Written by Banking Exchange staff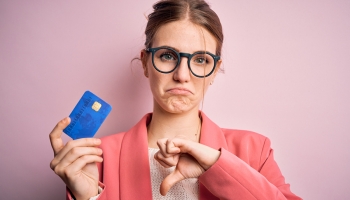 Credit card purchase volumes fell as the Covid-19 pandemic hit the US in March, according to the American Bankers Association's (ABA) quarterly monitor report.
In the first three months of 2020, seasonally adjusted monthly purchase volumes declined compared to the last quarter of 2019, the latest data showed.
Monthly credit card spending fell by 2.3% for super-prime and prime accounts, the data showed, while subprime account spending fell by 1.5%.
The proportion of card holders paying off their balance in full each month declined to 31.6%, from an all-time high at the end of 2019. Dormant accounts fell to 23.8%, and those carrying a monthly balance rose to 44.6%.
ABA senior economist Rob Strand said: "Consumers faced exceedingly challenging times amid an abrupt deterioration of economic conditions.
"It is not surprising that consumers reduced their credit card spending compared to the previous quarter as they navigated substantial financial uncertainty stemming from the pandemic."
He said the data reflected consumers being "diligent" with managing their credit card repayments.
"Although the future remains uncertain given widespread job loss, banks will continue to work with their customers and provide additional flexibility to help them manage their financial obligations through these difficult times," Strand added.
Consultancy firm McKinsey warned earlier this year that banks faced cumulative losses of as much as $130 billion over the next two years due to the longer-term impact of the pandemic on customers' ability to repay debts.
Credit lines for new accounts fell across the board during the first quarter, and outstanding credit card debt as a share of disposable income fell to 5.39%, which ABA said reflected the major drop-off in spending as the pandemic took hold in March.
More recently, other data indicates that the use of debit or credit cards has increased versus cash as businesses and customers have moved towards online or contactless payment methods in an effort to reduce the spread of the virus.
According to a study by the National Retail Federation (NRF) and market research company Forrester, 67% of retailers now accepted "some form of no-touch payment", including contactless payment cards and smartphone-based digital wallets.
Almost a fifth (19%) of US consumers said they made a digital payment in a store for the first time in May this year. More than half of this group said they would continue to use such payment methods after the pandemic.
The research also flagged up retailers' concerns with fees charged by card providers. The wider range of uses of cards and the different ways in which customers can pick up goods were not reflected in providers' charges, according to the study.
"Curbside pickup and buy online, pick up in-store transactions are treated as 'card not present' online transactions by the processors, so retailers are paying an online rate even when these purchases are picked up at the store," said Forrester senior analyst Lily Varon. "Retailers feel these are really in-store transactions so there's some pain there."
The average merchants' fee was 2.5% for in-person purchases, regardless of whether or not it was a contactless transaction. Higher fees – 2.8% on average – applied for online or phone transactions. The increase in online purchases being picked up in store was expected to cost retailers an additional $1.6 billion in fees this year, according to analysis from payments company CMSPI.
back to top