German Bank Likely Hoping for Trump Loss
The Trump organization has received billions of dollars in credit over the years from Deutsche Bank
|
Written by Banking Exchange staff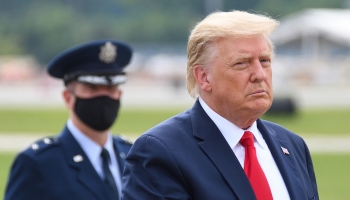 According to various reports, the Trump organization has received billions of dollars in credit over the years from German powerhouse Deutsche Bank. The relationship goes back more than three decades. The Trump organization still owes the bank more than $300 million across three different loans. The payments appear to be up to date, but will come due in two to three years.
The Trump Organization has not had to pay any principal on the three loans to date, covering properties in three states. The properties have struggled due to the coronavirus as hotels and entertainment have suffered, and could potentially decline in value based on the building locations.
Deutsche Bank has struggled for more than a decade, and its brand has been damaged along the way. It is in the midst of an attempted turn around, but after several years of declining profits and frequent redundancies.
According to several reports, the Americas area of Deutsche Bank is trying to cut the agreement with the Trump organization in order to help distance the bank from the relationship. The bank could try and sell the loan, although that would be difficult as other financial institutions would receive the same publicity and loan risk as Deutsche Bank.
While congressional hearings have attempted to link Deutsche Bank and Trump to illegal practices, the bank's next move may depend on the results of the election this week. Congressional investigations will likely heat up if Trump loses, or even if he happens to win a close election but the Republicans still lose the house and the senate.
The best case scenario for Deutsche Bank is probably a Biden win as it will be much easier for the bank to demand the repayment when it comes due in a few years, or take some other legal action to seize assets. The Deutsche Bank loan is another reason for Trump to win the election as it might force the bank to extend the loan for another several years and take the publicity hit as it would be difficult to seize the assets of a sitting President Trump.
Many politicians have said that Trump is too close to Wall Street and the banking industry. That may or may not be true, but the Americans working for Deutsche Bank may be cheering for Trump's opponent this week.
The lesson for any bank is to look for potential risk beyond just credit defaults in lending practices.
back to top