BSA/AML 25 years later
"Offer up your best defense; this is the end of the innocence" *
Year after year, the ABA/ABA Money Laundering Enforcement Conference helps bankers find solutions to their BSA/AML challenges.
Nov. 17 marks the 25th anniversary of the first American Bankers Association/American Bar Association Money Laundering Enforcement Conference. As time has passed (much too quickly), what is interesting is how many of the topics still resonate today.
The heart and soul of the conference, ABA's Dorothy Friedlander, located the original seminar program for me and some of the key sessions included:
• Recent Enforcement Actions
• Compliance with Multijurisdictional Money Laundering Statutes in Global Banking
• Model Compliance Programs
• Problems Regulatory Auditors Look For
• Practical Guidance on Whether, When and How to Report a Suspicious Transaction or Account and the Implications of the Right to Financial Privacy Act
• How to Respond to a Government Inquiry
• Lessons From Recent Forfeiture Actions Against Financial Institutions
• Policy Issues: Should There Be a Safe Harbor for Financial Institutions Cooperating With Law Enforcement?
The last topic was hotly debated for several years until we successfully convinced Congress (now there is a historic note that no longer resonates or actually happens) to protect financial institutions from the essential goal of reporting suspicious activity without looking over their shoulders.
Twenty five years later we still agonize over how to learn from enforcement actions, improve our AML programs and improve our ability to report suspicious activity.
The lawyers dwell on small details*
One theme that is not as prevalent today is that in the early years of the ABA/ABA program many defense lawyers argued against having financial institutions being in the "front line" of the war on drugs and money laundering.
Many panels included active debates on why it was not the role of bankers to report crimes. Fortunately for many of us, that argument is no longer common and the private sector accepts their partnership role in this ongoing challenge to detect, prevent, and report financial crime.
There remains debate on the increasing and sometimes inconsistent regulatory expectations for AML compliance but the shared mission of prevention hasn't wavered.
Who knows how long this will last*
For me, the ABA/ABA programs were clearly an important gathering of compliance, legal, and regulatory officials which broke down the walls of conflict and ignorance.
In the first few years of the program, attendance was rather sparse as compared to today but the organizations could absorb an unprofitable event as long as the mission of education was reached.
I remember making a strong plea in year 4 or 5 to continue the program and not knowing for a while whether I was successful. In today's programming world, it is unlikely that the goal would outweigh the financials so we were fortunate that senior management at ABA gave me another year to show educational and monetary value.
During the late 1990s, the public was reacting viscerally to proposals to create a "Know Your Customer" regulation and it was a strong possibility that the money laundering laws would be dramatically scaled back. The ABA/ABA conference continued but no one knew how long it would last.
I vividly remember trying to convince Treasury's Office of Foreign Assets Control (OFAC) to participate at the conferences but being initially rejected because OFAC didn't believe that sanctions issues should be covered at an anti-money laundering conference. I know, that's hard to believe today.
The End of the Innocence*
The horrors of September 11th have been well documented by observers much smarter than I. But I do recall deciding to proceed with the 2001 conference and asking for a moment of silence from the podium and having the audience then break into spontaneous applause—it was very emotional for all of us.
The hope here is that both organizations continue their commitment to AML and financial crime issues and education for as long as society needs that coverage.
Thank you
Over the past 25 years, many have greatly contributed in some fashion to education and awareness of AML issues at this conference. Some sadly have left us and no list is ever complete. For me, I want to thank the following for aiding the understanding of this complex area:
Whitney Adams, Amy Rudnick, Don Ogilvie, Dan Stipano, Bob Serino, Rick Small, Al Gillum, Dan Soto, Mike McDonald, Gordon Greenberg, Dorothy Friedlander, Sandra Currence, Andy Fort, Rob Rowe, Ezra Levine, Bill Fox, William Langford, Ed Yingling, Rich Riese, Elliot Berman, and many others too numerous to mention.
* Don Henley's "The End of the Innocence" from 1989.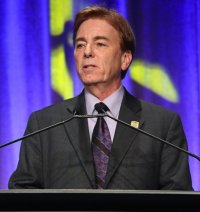 Latest from John Byrne
back to top