"Set That Baggage Down"*
Preconceptions of AML challenges must go, so real change can occur
With a nod to pop music, veteran John Byrne's blog scans the anti-laundering and anti-terrorism world. John pierces silliness and inconsistency, and strongly believes in private-public partnership.
We are only one month into 2014 and already there are mixed messages regarding AML compliance.
In my 30 years of following money laundering issues, I have never seen such fear from compliance professionals regarding their roles and responsibilities. That, and an equal ineptness from journalists covering this complicated area.
Part of the problem is what passes for communications in today's world.
Complex issues demand your full attention—they are not "drive-bys." What has been termed a "premium placed on speed" affects being informed.
This encompasses both immediate response to events from social media, such as Twitter, or our collective inability to read past headlines.
As regular readers know, I am active on Twitter—see my author's note at the end of this blog—as well and feel there is some real value to sending links to speeches, articles, or one's views regarding events. But there's more to the issues than 140 characters.
If we are going to improve AML, it takes work.
Examples of complete messages ignored
Last week, we at ACAMS were fortunate to have two major individuals in the anti-money laundering field address our Risk Management Conference in New York: Preet Bharara, the United States Attorney from the Southern District and Benjamin Lawsky, the New York Superintendent of Financial Service.
Bharara correctly discussed the need for financial institutions to improve their AML programs and to stay in front of issues such as virtual currency. However, Bharara also said this, in his speech:
"… gatherings like this one, with people like you who have dedicated your professional lives to making sure that our companies and financial institutions comply with their legal obligations and do not become conduits for fraud, give me great hope and optimism that we will find a way and people will find the will.
"It gives me confidence that together we can usher in a new age of institutional accountability and responsibility. And that together, we can ensure that our companies set a global standard for operating ethically and with integrity."
Was this point—that compliance professionals are committed to strong AML programs—covered? Of course not.
Superintendent Lawsky was equally critical of financial institutions and regulators and pointed out an "accountability gap" that needed to be addressed by both.
However, Lawsky also acknowledged a need for "rules of the road" going forward, including tackling so-called "product confusion."
This last concept recognizes that as firms are "huge, complex and diffuse," there needs to be collaboration between the regulator and the regulated to better understand new products and delivery channels to assess AML vulnerability and possible responses to reduce those risks.
Lawsky also admitted a difference between bad versus inadequate conduct and urged a new commitment to deterrence.
My takeaway from those comments is that AML professionals all need to work together because the goals are the same.
That, and that those who simply focus on Lawsky's comments regarding accountability, and who fail to see the complexity of improving AML are, frankly, lazy.
International views are the same
Prior to the ACAMS Risk Management conference, I was at our Fourth Annual MENA Conference in Bahrain and the comments and concerns expressed there were very similar to those expressed by their U.S. counterparts.
AML professionals were aggressively seeking guidance from local regulators and peers on how to handle everything from sanctions, audit, and risk assessment. There were several government presentations, including one from the Bahrain Ministry of Interior, who told the audience that money laundering "damages the financial sectors that are critical to economic growth, reduces productivity in the economy, and encourages further crime and corruption."
I would suggest that this view would not have been offered ten years ago in many places around the globe.
To better understand non-US approaches to anti-money laundering, sanctions, and corruption—set that baggage down.
Going forward or backward?
I was pleased to receive a number of positive comments from my last posting on holding a "summit" to address the patchwork of laws and regulations in the U.S.
With regulatory scrutiny being dramatically ratcheted up and with a clear need to stay ahead of a vast array of new products, time is not on our side. Before we lose dedicated AML experts to the confusion regarding expectations, we need to set that baggage down.
* David Crosby's new album "Croz" has another relevant title to our theme—"What's Broken?" Answer: The AML environment is.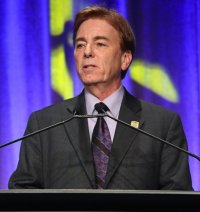 Latest from John Byrne
back to top