"The Song Remains the Same" *
Problem is, media and some others aren't listening
With a nod to pop music, veteran John Byrne's blog scans the anti-laundering and anti-terrorism world. John pierces silliness and inconsistency, and strongly believes in private-public partnership.
I've been monitoring our ACAMS Advanced Certification school on financial crimes investigations this week in northern Virginia and it struck me (again) how committed AML professionals are, both to enhancing their career skills while dramatically improving how information gets into the hands of law enforcement.
Trainers here are former FBI, Drug Enforcement Administration, and prosecutors. The students at the school are embracing the true goals of AML—not regulatory checkbox compliance but strategic use of information, program improvements, and quality SARs. When empty suits claim a lack of commitment to financial crime detection and prevention and don't mention the hard work of compliance professionals, it evidences a half-hearted attempt to fully understand this community, of which we are so proud to be participants.
Both the dedication and the massive challenges to this area were in plain sight last week at the ACAMS Moneylaundering.com Annual Conference in Florida. By now, I am sure you, as a AML/BSA practitioner, have read the prepared speeches of the Comptroller of the Currency and FinCEN Director.
But the "news" for me was the panel discussions, the Q and A that both Comptroller Tom Curry and Director Jennifer Shasky Calvery handled, and the tone of many AML professionals as speakers or delegates on how overwhelming everything has become. These points were not a veiled attempt for sympathy (which clearly won't be given, anyway) but a call for consistency, true information sharing, and a cooperative approach to AML.
A final thought, regarding news accounts in this area. Comptroller Curry clearly outlined areas of needed improvement and accountability but he also said this:
"The good news about industry efforts to comply with the Bank Secrecy Act and anti-money laundering laws is that the vast majority of our institutions are doing a good job. They have programs in place that meet the requirements of the Bank Secrecy Act and, most importantly, they are managing their risks and reporting suspicious transactions. In fact, throughout the industry, we find dedicated, hard-working people in the BSA compliance area—people who care about their work and do the best job they can each and every day." [Emphasis added.]
You won't find this mentioned anywhere in the news coverage.
Mindset: Frustration and dedication (Is that possible?)
There was a palpable sense of frustration among AML compliance professionals for all the reasons you can imagine, if you do this sort of work yourself—lack of "tone at the top"; resource limitations; confusing regulatory expectations; and calls for more dramatic fines directed against individuals.
In addition, discussions on such disparate topics as leveraging "big data"; "virtual currency"; and banking (or not) marijuana dispensaries; and sanctions were all debated and added to the view of never-ending responsibilities.
Significantly, many government speakers were asked about taking some laws or regulations off the table—and none dismissed this point out of hand. (Read my earlier postings on a need for an Executive Summit.)
Juan Zarate, former Treasury Assistant Secretary for Terrorist Financing and Financial Crimes, called for making the [AML/CTF] system work better, as we are all living in an "unforgiving regulatory environment."
Industry effort isn't being recognized
Zarate also said we had to understand a growing skepticism around financial institutions regarding AML compliance.
That's a fair point but an unfair position that any true AML expert can attest. My colleagues at ACAMS Money Laundering.com released an enforcement survey at the conference that showed a reduction in actions for AML violations in 2013 from 2012 but a 63% increase in OFAC actions as well as an increase in non-public orders (MRAs and MRIAs) for AML compliance deficiencies.
Thus the frustration!
On the encouraging side, a panel of chief compliance officers reiterated their commitment to AML requirements and improved compliance culture at the top and throughout an organization, despite sometimes conflicting (at least budgetary) priorities.
International regulators admitted that they did not always understand bank risk and that that can impact effective supervision (how refreshing!).
A representative of the Bitcoin Foundation spent time explaining how important AML awareness was for this new community. Representative Peter King (R-NY) thanked the audience for their diligence but cautioned that we had to stay current with terrorist activity (a view that certainly was not disputed).
The environment is complex, the goals are several, the community is determined—but confused at times—but the truth remains the same:
We need a comprehensive strategy that leaves nothing off the table.
* Both an album and concert movie title for Led Zeppelin. Yes, there is a song on that album, "Dazed and Confused," which is also relevant for a number of reasons.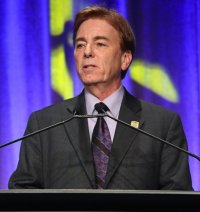 Latest from John Byrne
back to top