Time for non-resolution resolutions
8 promises and principles to keep
It seems to be embedded in our annual routines that most of us "plan" in September, "budget" in October, and make our New Year's resolutions in December. We seem determined to ignore or overcome the largely self-imposed restrictions of these various activities.
Here are some examples.
Planning has a certain "opacity" to it so it's impossible to be really specific. After all, things change so fast these days. Then the budget produces occasionally negative variances and we spend a lot of time and energy justifying the shortfalls or the over shoots and just won't admit that we had on rose-colored glasses during those budget sessions.
Our New Year's resolutions? That's one more set of concrete behaviors that demonstrate conclusively that, for many of us, our stated values (what we say) and our operational values (what we do) are fundamentally out of sync.
Since this is very early in the new year, I had expected in the last two or three weeks to see a lot of stories on the subject of resolutions. There haven't been many so maybe we are wising up to the fact that we are not really serious about them in the first place. We have to plan and we have to budget but we don't have to make New Year's resolutions that we have no serious intention of keeping in the first place.
Bankers probably all agree that business is looking better than it has in quite a few years. We're not where we want to be—but at least we don't come to work in the morning worrying about liquidity or how much longer our problem asset list is this month compared to last.
We have reason to lift our heads up and look around with a growing sense of optimism. It's a good feeling. How can we keep it going?
Principles, not resolutions
Rather than develop a list of specific resolutions of things to do, here's my list of principles to follow for the new year. I came across some thoughts I wrote three years ago at this time of year and they seem as timely today as they did 36 months ago. Here they are again in case you missed them in 2011.
1. Let's stop talking about what the big banks did.
Community bankers were not exactly without fault either. It's just what we did didn't almost crater the American economy. But at this point, who cares? Those who do already know the talking points; those who don't can't, or won't, get it.
2. Let's stop dwelling on the evils of regulation.
In the aggregate, it's here to stay and it's nothing new to our businesses. Yes, we can strive for improvements, but let's remember, we've survived CRA, Reg Q (and its demise), Truth in Lending, and many more things that weren't as bad as we had feared. All the talking isn't going to cause cataclysmic improvement in Congress, so let's put our energy into complying and adapting.
One of my bank's directors in Oklahoma used to say, "If you find yourself in hell, brag on it until the Devil lets you out." That's profound advice when you think about it.
3. We're still quite alive as an industry so let's concentrate for the next several quarters on making up for the few years we lost to the recession.
We owe our customers, our stockholders, and our banking public at least that much.
A few suggestions along these lines would include visiting our customers in their places of business and saying "thank you" for their business. Customers are going to be paying more fees in coming years, as our costs rise, so we might just as well get used to saying this and meaning it. Customers can spot a phony much as a good credit person can sniff a bad deal. We should at least give them credit for being in their own ways as astute as we consider ourselves to be.
4. Let's give back to our communities in some imaginative ways.
We can start with community service. A lot of bankers seem to equate community service with "check book charity." They buy a table to a dinner and consider that they have done their part. Instead, we and our colleagues need to be out getting our hands dirty and involved with activities where our experience and expertise can be put to good use.
How many non-profits need help in budgeting, systems, IT—the kinds of expertise bankers have under their roofs in abundance. This also helps our business development efforts by allowing us to rub elbows with community business people we might otherwise never know.
5. Let's mentor our younger staff members more systematically and effectively.
I received more handouts from experienced colleagues than I can ever repay or even acknowledge. Some of the lessons from many years ago are as fresh and vivid as if they were yesterday and I never would have had read anything of them out of books or manuals. I learned things from customers, too, but the best teachers were my bosses and more experienced colleagues.
Unfortunately, much of this was hit or miss. Imagine what we could accomplish for our industry and our employers if we were half way organized in doing it. And it's fun.
6. Let's do our part to raise the tone of the public discourse on banks and banking.
We did some not so smart things as an industry in recent years but we have survived and that's worth celebrating.
Maybe we've earned the right to say some things about business and ethical standards and some constructive things about our local economy and marketplace. We can be sources of wisdom or discordant voices expressing a constant level of concern and frustration. If you had listen to yourself, which of these two options would you prefer?
I remember when anyone who worked for a bank was expected to have an opinion on the prime rate or the direction of mortgage rates. People value our opinions, but only if we are reasonable voices and have something thoughtful and useful to say.
8. Finally, let's project the image that we enjoy our work.
Most of us do. So why is it is so easy to slip into negative thinking?
I used to work with a fellow in Oklahoma who said that everyone has the choice to be happy or glum—every day. For his part, he chose to be happy and most days, he acquitted himself well on that score. He laughed a lot too and was fun to be around.
It's good to be a banker even if the world doesn't often put us on a pedestal anymore. I can't imagine having done anything more consistently interesting or rewarding with my life's work. I suspect that most of you deep down feel the same way as I do.
Happy New Year—and good luck!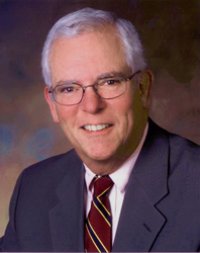 Latest from Ed O'Leary
back to top