An original "Burger King" was just "Jim" to me
Priceless value of a first-name relationship
Many remember the late Tip O'Neill for the phrase—or at least they remember the phrase—that "All politics are local."
I remember Jim McLamore and others like him as teaching me that, "All banking is local too." All of it.
"Jim McLamore?" you ask.
You may not know who Jim McLamore is. But the company he co-founded has been all over the business media this week: Burger King.
Burger King has been in the news the last few days for its proposed merger with Tim Hortons, the coffee and donut chain headquartered in Canada. The merger seems to make considerable business sense, and has also been billed as a "tax inversion." This is the way of describing the acquisition by an American firm of a foreign one and the redesignation of the surviving company's domicile offshore. Under current law this serves to avoid being taxed.
But that controversy isn't today's topic.
I have no opinion on the virtues or lack thereof for so-called inversions. Instead, these news reports remind me of Jim McLamore, when he was my customer at Southeast First National Bank of Miami, and how I learned from the experience.
The men who made Burger King
Jim co-founded Burger King with David Edgerton in the 1950s and 15 or so years later the pair sold the company to Pillsbury.
The sale of their business propelled these young entrepreneurs into the ranks of multi-millionaires. Each was only in his early 40s.
Edgerton and I never met, but Jim was well known to all of us at the bank. He was an important customer both corporately through the Pillsbury-Burger King relationship but also personally.
Jim was a long-time bank director and a fertile source of business referrals due to his extensive community and business relationships. It was a reciprocal relationship that served each party very well.
My thoughts recently have been about the importance of relationships such as we enjoyed with Jim and whether they are still as durable for very large community and regional banks as they once were. (Note that I always call him Jim, his first name, and tuck that away for a few minutes.)
Getting to know Jim
My colleagues and I could, and did, serve our customers such as Jim to the best of our collective abilities and he for his part was very loyal to us.
Are there still opportunities for local lenders to build reciprocal relationships of enduring value in this age of increasing size of banks?
We had banked Burger King before the acquisition and had participated in financing the company's growth. In that role we gained an appreciation for the company's business model and became a source of financing for Burger King franchise operators in the rapidly growing Florida market.
It seems in hindsight almost a textbook model of how to nurture and grow a relationship into something a great deal larger than the initial business opportunity.
Our growing presence in fast food franchise financing resulted in our bank's expanding its portfolio into other emerging franchise names that have become iconic in the years since we first started to bank Burger King in the 1950s.
The McLamore relationship became a model in my mind of how a bank can become an extension of the personality and business acumen of its prominent customers.
Jim, and significant customers like him, valued the personal service that their importance generated for them, while at the same time seldom failed to be appreciative of whatever personal or business accommodations provided.
Getting to "Jim," and past "Mr. McLamore"
I remember the advice I received from one of my bosses at The Bank of New York not long after I got out of the bank's loan officer development program, long before I headed to Florida.
My boss wisely told me (and occasionally reminded me) that I should strive to be on a first-name basis with my customers. Even though I was barely 30, after preliminary courtesies with newly assigned customers, I should be "Ed" and they, such as Jim McLamore, should be "Jim."
That advice helped me in this specific case to quickly get onto a first-name basis with a man nearly a generation older than I was. And he was one whose reputation put him into very rarified atmosphere among almost any banker's typical web of business contacts.
Jim rented a personal suite of offices in one of our branches convenient to his home that was also located on my commuting route to and from headquarters. That meant sometimes I was a courier for important documents, but it also gave me occasional direct introduction to some of his business contacts and colleagues.
Such access was "golden" to me—sorry McDonald's—as a young fellow trying to expand my personal portfolio of bank customers for whom I could plausibly claim a significant stake in business development credit.
Can it still be done? By community banks, yes
How many young and aspiring lenders have the almost routine opportunity to participate in these sorts of "private banking" relationships today?
I suspect that it's relatively rare in the age of shrinking personal involvement of the staffs of larger banks in their local environments.
Yet, it's not impossible.
Certainly, banking still affords these sorts of business development opportunities.
But how do large banks keep from swallowing their customers' individuality in similar ways to how they seem to swallow the individual personalities of their employees?
Community banking is still and probably always be the best route to building solid, personal, and largely local relationships with community and business leaders. And yes, first-name relationships seem more natural and friendly at the front line, local level.
I've been fortunate to know a lot of customers like Jim. Knowing them and banking them helped me develop into the banker I became.
My service to them was in turn a service to my local community. It directly fed the bank's efforts to sink its roots deeper into the market place. I could see that and understood it early on.
When such opportunities come your way, grab them.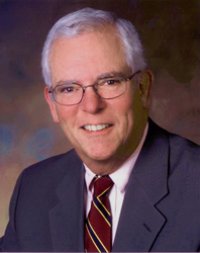 Latest from Ed O'Leary
back to top