Making friends, making customers
Real service begins with understanding the person on the other side of the desk
"There's really not much that indicates we've learned anything new over the last several cycles," says veteran lender and CEO Ed O'Leary. Each week in his blog he strives to fix that.
This week I went to the bank to remove something from my safe deposit box. Afterward I stopped to chat with a former colleague at that branch. She afforded a remarkable insight into a new tool the bank has introduced to its personal bankers to help them engage with customers.
What I found so interesting was that it was built without the prevailing "How do I sell you one more service?" mentality.
Instead, it had a very old-fashioned feel—engaging with the customer as both consultant and friend.
Foundation for person-to-person communication
This new process was explained to me as starting first and foremost with an understanding:
To serve customers more fully, we need to know and understand our customers better than most of us do.
Part of this may be simply a matter of building experience in dealing with customers and having or developing a native ability to engage in "small talk," without trivializing the conversation or the relationship.
The basic premise of this bank's new process, though, is that conversations between friends are usually much more substantive than discussions with relative strangers.
So how do we change things? How can we develop a relationship with our customers that will result in making a friend rather than simply a sale? Think of it in a way as the difference between a "relationship" and a "transaction."
Be a person, not a robot
If we don't ask questions—and some of the key ones are of a personal nature—how are we to investigate ways that we might be of assistance to the customer? Is there a problem to solve? An issue to address?
But first we have to take concrete steps in developing a foundation leading to a meaningful friendship. This means knowing some personal details about customers and their families and deliberately cultivating a personal relationship based on more factors than those that are narrowly business focused.
I guess I was surprised to be reminded that this is actually unfamiliar territory to many bankers, even some who have been at it for a while.
How do you learn this? Sometimes, it works in refers.
Case in point: When my wife was diagnosed with breast cancer years ago, I felt very awkward in talking about it. How could I have anticipated that it would be my customers who would knock down that imaginary wall and get me talking about and sharing my situation freely and openly?
I quickly learned that I wanted to talk about it and in that process I experienced acts of great kindness. These conversations were therapeutic and personal. They afforded a previously unimagined opportunity to build a foundation of friendship.
My customers wanted to talk about their experiences too. Pretty soon I realized that I could bridge that previous divide between business and personal and create a relationship built on friendship and trust. I have had many solid and lasting friendships, including former customers, spanning decades of time and considerable distance, from those initially painful human experiences.
Can technology improve the interpersonal?
My own experiences date from a long while ago. In recent years I have sensed that many younger and less-experienced bankers didn't know how to develop these skills very well and didn't have much help in the structural sense from their bank employers.
Yet I didn't know how we as an industry could properly address it.
The tool that I saw the other day was a simple computer desktop forecasting model. It helped a banker ask the customer some questions relating to financial objectives such as saving for college tuitions for children or providing for adequate retirement reserves. The conversation is aimed at eliciting the customers' objectives, as well as the personal attitudes that shape priorities and actions.
Led by a well-trained personal banker, the conversation is more easily focused on key matters where the bank can be part of the solution in the course of a normal interactive banking relationship. There was nothing proprietary about either the software or what it was aiming to do.
What's new is that the banker can initiate the conversation in a non-threatening context. They can invite and guide the customer to be introspective about his or her longer-term financial goals and build a relationship on a personal level that would simply not be as natural or as convenient otherwise.
The bank also recognizes that staff coaching has got to be an integral part of the process. The managers and the bank's securities and insurance licensed platform people become consultants first to their fellow bankers and customers with whom they interact. They become salespeople as a distinct second.
Of course the long-term objective is to expand business volume. But the process needs to be organic and systemic. Where we can build our book of business by being helpful, the result is value added to both the customer personally and the banking relationship. My direct experience over the years is that this leads to an increasingly loyal and prosperous customer.
How to grow "community bank feel"
Somehow, old timers like me who struggled to be ultimately successful became so through trial and error and with practice and a genuine interest in customers and their welfare. I never had an interactive desktop tool to use to engage my customers and my bosses weren't steeped in coaching discipline, though they took mentoring responsibilities seriously.
The process I witnessed this week is conceptually old fashioned but embedded within a deep commitment to institutionalize it in a serious way.
I've always considered banking, whether on the retail or commercial sides of the business, to be fundamentally people- and sales-oriented. And this seems to be the essence of what we are increasingly referring to as the "community-banking" model of customer service. It is, in other words, service that is very personal.
Today and for the last several years, we've continued to talk about "relationships" but increasingly act in a "transactional" way.
This I believe is actually resulting in the demise of community banking and it's got precious little to do with bank size but everything to do with personal engagement.
How badly needed is this retro attitude today at this time of bank bashing and the loss of the personal touch in so many of our interpersonal activities?
"Oh, excuse me. I have to check email."
See what I mean?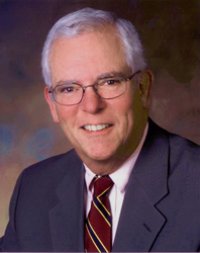 Latest from Ed O'Leary
back to top