What's living on that touch screen?
Germ-fighting ATM touch screens debut, fight "eww" factor
|
Written by Website Staff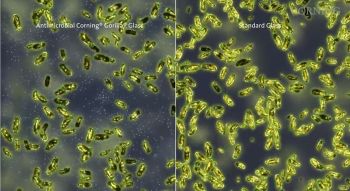 Impact of new technology, left, from Corning for Diebold ATMs as it fights microbes, compared to unprotected surfaces.
It almost doesn't bear thinking about. But who touched that touch screen before you?
To allay such concerns, Diebold, Inc. and Corning Inc. teamed up to introduce the first automated teller machine touch screen featuring Antimicrobial Corning Gorilla Glass.
The glass is formulated with an embedded antimicrobial agent—ionic silver—which inhibits the growth of algae, mold, mildew, fungi, and bacteria on its surface.
"Touched by hundreds of users every day, the ATM is a universal shared touch device," says Joydeep Lahiri, division vice-president and program director, Specialty Surfaces, Corning. "Therefore, toughness and antimicrobial protection are desired attributes. For Diebold ATMs, Antimicrobial Corning Gorilla Glass will deliver lifelong antimicrobial activity that won't compromise toughness or optical clarity."
Diebold plans to offer the new surface as an option on its expanding line of self-service terminals. The antimicrobial glass will be available on the recently launched 5500, 3500, 3700, and 9900 series ATMs. Diebold will also offer the technology as a retrofit option for existing ATMs.
A video from Corning demonstrates how its antimicrobial technology works. You'll want to wash your hands after watching the clip.
Antimicrobial protection is limited to the glass product itself, and neither Corning nor Diebold makes any direct or implied health claims about the antimicrobial properties of the product.
How much risk do ATM users face in the absence of the new glass?
In 2011, tests conducted by Kimberly-Clark Corp. showed that 41% of ATM keypads carry germs that can cause colds and the flu. They were fourth on the list of most-contaminated public surfaces, behind gas pump handles, 71% of which carry disease-causing germs, mailbox handles (68%), and escalator rails (43%). After ATMs, parking meters (40%), crosswalk buttons (35%), and vending machine buttons (35%) were found to be the next most germ-laden public surfaces.
Corning points out that antibacterial wipes, foams, sprays, and films exist today, but they are temporary, and many device manufacturers advise against them. The antimicrobial glass can be installed in electronic devices.
So, the new technology is nothing to sneeze at.
back to top