Intelligent Branch Banking
Every day, an average of three U.S. bank branches close their doors for good
|
Written by Kevin Sullivan (Senior Manager at Cisco) and Al Slamecka (Financial Services Industry Lead at Cisco)
|
Comments: DISQUS_COMMENTS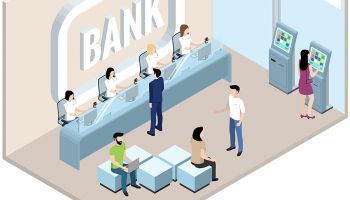 Every day, an average of three U.S. bank branches close their doors for good
In theory, the decline makes sense. Consumers with supercomputers in their pockets no longer need face-to-face interactions to complete basic financial transactions. They can do everything that used to be a part of weekly trips to their neighborhood branch directly from the comfort of their living room. That's the beauty of having smart devices at the ready. Optimizing and consolidating branch footprints, therefore, is a logical business decision as decreased transaction activity often impacts the profitability of branches, especially of those in less populated areas where margins are tighter.
But what makes sense in theory is not always best in practice.
Digital interactions remain only one piece – albeit an important piece – of customer experience. According to a recent McKinsey study, a staggering 80 percent of Americans still want that branch-level human touch on some or all of their banking needs – particularly when they are looking for loans, investments and financial advice. So, it's critical for banks to maintain a physical presence within the communities they serve.
Nevertheless, the shift from physical to digital transactions puts branch operational decisions in the spotlight when it comes to cutting costs. Banks know they need to innovate to address a fast-changing customer landscape, but it can be costly and difficult to know if investments made to lower servicing costs also result in a more desirable customer experience. As a result, many institutions struggle to move at the pace they know they need to – a situation that does pose risk.
Banks unwilling or unable to innovate quickly get stuck in a no-win game of balancing how many branches they can close to create efficiencies without losing too many customers wanting in-person service. Meanwhile, Innovative banks create desirable experiences and improve efficiency without closing branches. These leaders are participating in a banking renaissance where branches actually thrive
How?
By using the intelligence provided by solutions and capabilities to transform branch operations. These are often found in the new generation of branch infrastructure solutions that are designed to enable desirable customer-facing and operational business outcomes.
More Intelligent Systems: Branches are too often hampered by legacy infrastructure that is costly, inflexible, and unable to adapt to new operational business needs. By adopting highly secure, software-defined connectivity (known as SD-WAN), and virtualization of branch services and devices, branches stand to gain immediate efficiencies by enhancing connectivity, consolidating devices and speeding up service. Not only will banks experience improved application performance, but also full utilization of all available bandwidth while reducing operating costs.
More Intelligent Bankers: Branches have the ability to help or hinder their employees' responsiveness with the tools they provide. The best way to help employees is by ensuring they are connected to all of the points of engagement between the bank and an individual customer. With better connectivity and access to mobile tools and intelligent applications that support product and service distribution, employees can anticipate and react to customer needs they wouldn't otherwise think to address.
More Intelligent Business Decisions: Intelligent networking systems provide richer analytics and performance data on critical branch applications. Banks can see what applications are used the most, how they're performing, what traffic patterns look like, etc. for an automatic view into what's happening within the branch – all from a single location. Banks are able to respond faster to threats and vulnerabilities as well as have scalability without compromising performance. This new intelligence helps the bank make better business decisions about future applications and branches.
An intelligent branch also uses these capabilities to drive better orchestration between digital applications and physical infrastructure, blending experience in a way that delights employees and customers alike. The blended approach is the key to making future branches fast, safe and relevant.
Fast: Using the inherent programmability of SD-WAN's software-defined connectivity, banks can easily prioritize which branch data traffic travels over Internet connections and which travels over WAN connections. This enables customers and employees to conduct business with access to the applications and data they need swiftly and securely.
Safe: Wi-Fi is no longer about providing a free hot spot service or introducing security risk, it is about how to differentiate and leverage Wireless LAN for added business benefit. Banks can take advantage of intelligent Wi-Fi solutions to incentivize customers to log into the bank's mobile application. Combined with geolocation and the added security of the mobile device's biometric authentication, banks gain an extra level of protection when it comes to ensuring Know Your Customer (KYC) and Anti-Money Laundering (AML) compliance.
Relevant: Customers crave personalization and convenience. Having data-driven awareness of customer intent leads to smoother efficient experiences. For example, knowing a customer completed part of the blended mortgage process online can enable a branch to better handle the subsequent in-person follow up with greater speed resulting in a differentiated customer experience.
Branch banking is not dead. It is undergoing a renaissance that will leave banks better able to remain fast, safe and relevant in ways previously unimagined. Getting to the right system and technology integration might seem like a big undertaking, but the work invested separates the traditional branch experience from the one that wows customers.
back to top