"I've Seen All Good People"*
Much work fighting human trafficking goes on—here's to continued success, despite odds
Scourge of human trafficking continues, as detailed in a new federal report that also reviews the battle waged against it by both the public and private sectors. This detail from the new federal report's cover underscores the global nature of "modern slavery."
Recently, AML professionals were exposed to more data and information regarding one of the most horrific crimes against humanity. The lone bright spot is the spotlight that has been shone on these atrocities, and evidence of tremendous work being done by both the private sector and the government.
Of course I am referring to human trafficking, where gutless groups or individuals are taking advantage of the poor, the uneducated, and the desperate.
The notion of those with power of any kind placing so many individuals in harm's way is disgusting. But I remain optimistic that bank compliance professionals, analysts, and many others are committed to discerning how to create typologies and red flags that can be used for reporting and detection purposes.
Major new report released
The State Department has issued its 2015 Trafficking in Persons Report and it remains sad that there are over 380 pages in this report. As the cover letter points out, in pertinent part:
"In recent decades, we have learned a great deal about how to break up human trafficking networks and help victims recover in safety and dignity. In years to come, we will apply those lessons relentlessly, and we will not rest until modern slavery is ended." – John F. Kerry, Secretary of State, Letter from Secretary Kerry: Trafficking In Persons Report 2015.
The report delves into country analysis, various methods of trafficking, and recommendations for responding. From the AML community's perspective it fails to mention some of the inroads made by the financial sector in creating strategies to determine if transactional activities are indicators of human trafficking. For more on the report, visit the report's homepage, which contains many resources.
As for the work of the financial industry, I have mentioned in past blogs, how the Department of Homeland Security and a number of bank analysts got together and developed some excellent and useful strategies for assessing whether certain transactions can be indicia of forced labor or sex trafficking. Learn more on the DHS/ICE Human Smuggling and Trafficking Center page.
DHS has been a leader in government efforts addressing these crimes and recently marked the fifth
anniversary of the "Blue Campaign"—an outreach to the public on what and when to report suspicious activity.
For more on what my organization (and in reality the private sector) is doing to increase awareness of human trafficking, visit our web page on the subject. This page includes a video from the ACAMS Annual AML & Financial Crime Conference.
We have many committed groups in the private sector who are making a difference in this area and besides DHS mentioning those partners, we don't hear from them too often.
"Different take" on SARs and human trafficking
Two disparate thoughts here.
First, I have a heard a call for adding a box on the Suspicious Activity Report for human trafficking, but I must say many in the industry are skeptical that a change like that will help.
The view, instead, is that examiners will focus on whether the institution has a "program or policy" to address human trafficking. If that occurs, as one AML official has said, "we will stop hiring people to address that." Before you get outraged about that statement, understand that the point is to be proactive and not to make human trafficking deterrence a generic compliance requirement.
Finally, I was pleased to have the recent opportunity to discuss AML topics at a Federal Financial Institution Examination Council training session with over 100 examiners.
We had a robust discussion about SARs after I offered several anecdotes regarding criticism of banks for not reporting SARs despite robust programs and documentation for non-filings.
One examiner suggested that SARS should be a very low bar for reporting, as banks should default to filing with even the slightest suspicion and let the government figure out the actual crime.
Do you agree? If yes, that would certainly change the necessary skill set for AML analysts.
*A 1971 hit for the progressive rock group Yes, from their first album. This song, with the first part known as "Your Move," has also been used in several movies. Take my advice and give it a listen today—it still holds up.
Another line from the song "Don't surround yourself with yourself" warrants some thought. Perhaps it can mean listening to others outside your comfort zone…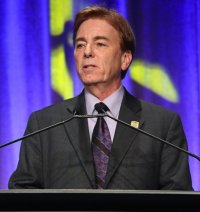 Latest from John Byrne
back to top