"No One Listen(s)"*
Cooperation still spotty, but industry keeps sharing ideas
With a nod to pop music, veteran John Byrne's blog scans the anti-laundering and anti-terrorism world. John pierces silliness and inconsistency, and strongly believes in private-public partnership.
"You are entitled to your opinion. But you are not entitled to your own facts."—Daniel Patrick Moynihan
The ACAMS 15th Annual AML & Financial Crime Conference just ended. As we head back to our various challenges with policy, rules, resources, regulatory expectations, corporate culture hurdles, and some incoherent views on AML problems, one thing seems clear:
We need to listen…
"Oldie by goodie"—and still not played enough
Yes, I know I sound like a broken record on this theme.
But not much is changing.
A few examples drawn from the conference:
Comptroller Thomas Curry spoke to our conference regarding the reevaluation of risk. Among other things Curry said:
"Banks must choose whether to enter into or maintain business relationships based on their objectives, an evaluation of their risks and their customers' expected and actual activity, and their ability to manage those risks effectively."
Now, the Comptroller is an excellent public servant, and certainly committed to addressing (and hopefully eventually solving) the "derisking and financial inclusion" dilemma. His speech emphasized how the agencies "work hard to communicate expectations clearly, because clear expectations help bankers and their customers understand the rules of the road."
We all need to ensure that Comptroller Curry's directions—and those of the other banking agency leaders—are followed by their staffs.
We can start with addressing some of these situations:
One AML colleague told me that during a recent examination the bank was told its terrorist financing training and detection process was inadequate. This was in spite of the fact that the bankers involved had extensive previous experience in this area—and, I would add, certainly knew more than the examiner.
So, no wonder some financial institutions exit relationships instead of fighting back …
Another banker—and this episode takes the proverbial cake—was questioned on the bank's "human trafficking detection program." (Such programs are voluntary, not required, by the way.)
Regulators criticized the bank because it did not look at a longer list of countries identified by the State Department. The bank was told to do a three-year lookback at the additional countries to see if they missed something. Oh, and to check out several countries the institution had never done business with—or even knew existed.
We need to listen …
Cumulative effect of communication gap
ACAMS takes pride in facilitating dialog. During the conference we held a closed-door session for banks. (We did the same for the fintech and gaming communities.)
The theme in all three meetings was open communication (i.e. listening) to dispel inaccuracies or misconceptions.
One sad observation from the bank session: Several institutions complained that they felt a disincentive to enhance their systems because of past criticism from examiners. They felt safer to then only do the bare minimum.
Whether you accept that or not, the human trafficking example above lends credence to this regulatory fear.
Takeaways from Vegas
Not wanting to end this on a completely negative note, I will share several strategic and tactical recommendations from our speakers.
• In our session on the Customer Due Diligence Rule, the experts said that the compliance function should capitalize on the CDD rule to strengthen risk management and the compliance culture across their institutions.
• The discussion on crafting SARs told the audience:
1. KISS—Keep it short and simple—now is not the time to write the next great novel!
2. Update customer profiles and risk rating.
3. Consider instituting a quality assurance program!
• From the compelling session on money laundering and real estate:
1. Money laundering through real estate has been a globally recognized systemic risk for well over a decade.
2. The U.S. and other financial centers should meaningfully and systemically implement and enforce longstanding global standards to address this risk.
3. Such standards include regulation, supervision, and enforcement of preventative measures for real estate closing processes, company formation processes, and intermediated accounts. This includes when such processes or relationships are managed by lawyers, notaries, accountants, or trust and company service providers.
4. Banks and covered financial institutions should consider real estate closing and company formation processes—and the accounts and clients these processes implicate—as risk factors in their CDD, including in client on-boarding, risk-rating and monitoring processes, and including in their beneficial ownership due diligence.
There were, of course, many other "takeaways" on a diverse area of AML-related subjects that has expanded so much during my career.
However, the major theme still seems to be the need to revisit the AML infrastructure, that is in danger of bursting at the seams just like our roads and bridges … if we don't listen…
• Ray Davies, of the Kinks, in a 2007 song from his album "Working Man's Café"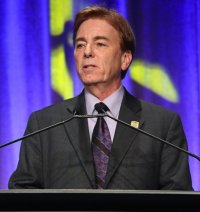 Latest from John Byrne
back to top