"Will It Go Round in Circles?"*
The "debate" on derisking continues … or does it?
With a nod to pop music, veteran John Byrne's blog scans the anti-laundering and anti-terrorism world. John pierces silliness and inconsistency, and strongly believes in private-public partnership.
Anyone who is in or knows politics understands the various strategies surrounding how to communicate bad news. One of those strategies is releasing information right before a weekend.
Similarly, I have noticed in my many years of regulatory work that agencies tend to release policy guidance either right before an event or at the least optimal time (say, Labor Day weekend).
Why such timing? It could be either to hope that the release shows movement, before having to justify the state of an issue with outside parties.
Or the reasoning could simply be that the "policy" is not new information at all—just a recitation of previous rules or advisories.
Recent federal fact sheet on derisking
You can decide privately what you think about the latest issuance on derisking-related topics by the U.S. banking agencies and the Treasury Department and the related Treasury blog post, "Complementary Goals—Protecting the Financial System from Abuse and Expanding Access to the Financial System."
But I would suggest that another recent document, issued Aug. 25 by the Financial Stability Board (FSB) as a progress report to the G20 on Aug. 25, is a much better and fairer characterization of both the problem and all of the various stakeholders of this global issue.
By contrast, the federal four-page "Joint Fact Sheet" on foreign correspondent banking meanders into a discussion of what federal banking agencies expect from the regulated community regarding AML and sanctions compliance.
So, readers begin by thinking they will hear some direction regarding foreign financial institutions. And then suddenly the document swerves into a broad coverage of supervisory oversight, a separate column on how the Department of Justice can prosecute, and a statement that there is no such thing as "zero tolerance."
Also, the document includes no reference to the private sector's concerns regarding supervision, enforcement, and the AML environment. Those facts were clearly left out of this "fact sheet."
Here is the conclusion to a document clearly written by many, many co-authors:
"The goal of BSA compliance programs and OFAC sanctions programs is to ensure a well functioning, transparent, resilient, and safe and sound financial system. While the Treasury and the FBAs [federal banking agencies] do not utilize a zero tolerance philosophy that mandates the strict imposition of formal enforcement action regardless of the facts and circumstances of the situation, Treasury and the FBAs take the threats posed by criminals, money-launderers, and terrorist financers very seriously, and continue to use their authorities—in a proportionate and appropriate manner—to
safeguard our financial system against abuse."
So, no zero tolerance?
Case study in how to write a policy document
Not much comfort there. However, a document released earlier in late August by the Financial Stability Board—"Progress report to G20 on the FSB action plan to assess and address the decline in correspondent banking"—does give me optimism.
This document comes from the view that the global threat to the world economy created by risk concerns and regulatory confusion (as well as business decisions to be fair) can be solved by including all stakeholders.
The various member-nations' responses to the FSB initiatives don't always manage to be on point with the recommendation, at least the FSB goals do include extensive private sector participation. (The document notes that "clarifying regulatory expectations" is needed, but the federal Fact Sheet mentioned above hardly clarifies anything.)
Regarding participation, FSB points to a commitment to facilitating dialogue between the public and private sectors on important AML-related issues such as terrorist financing, sanctions, and risk assessment. The report spells out a number of events held in 2016, including regional consultations, IMF/World Bank workshops, FATF private sector forums, and the ACAMS/World Bank May-June meeting on derisking and financial inclusion.
Calling things for what they are
FSB also called out the private-sector concerns about impediments to information sharing when the board stated that it is:
"… a key issue that may lead banks to avoid high risk customers altogether, as banks may be prevented from sharing information that would clear suspicions, or that would show that suspicions are appropriately handled and reported."
The report describes a number of initiatives dealing with hurdles to sharing, including anticipated further guidance from FATF.
What is noteworthy here is not clear solutions, as those are evolving, but the FSB's noting the continued need for broad dialogue. As my regular readers know, this is something that needs improvement in the AML community, and it is something I firmly believe in.
We all agree that the AML community wants and does work together—at least, most of the time. I even believe that all stakeholders want clarity and useful information sharing.
But when reports or "policy guidances" leave out a point of view or concern from a stakeholder, we are missing opportunities and talking in circles.
*"Will It go Round in Circles" by Billy Preston (1973). The song was a number 1 hit. Preston was also known as the "fifth Beatle," as he performed on their "Let It Be" album.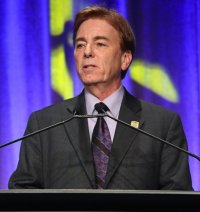 Latest from John Byrne
back to top