"Everybody Wants to Rule the World!"*
AML's a global challenge—and needs a global response
With a nod to pop music, veteran John Byrne's blog scans the anti-laundering and anti-terrorism world. John pierces silliness and inconsistency, and strongly believes in private-public partnership.
As we move toward Thanksgiving here in the U.S., many of us are not sure how much there is to be thankful for.
Specifically, in a political year like no other, attacks have been made against NATO, trade, and the global market.
In the U.K., we had a close but eventual rejection of the concept of working together across jurisdictions, with the Brexit vote.
Political leaders across the globe have been roundly criticized for supporting anything that allows an easing of borders, whether physical or virtual.
So, in this toxic environment of categorizing groups of people and advocating physical walls, there is at least one area that recognizes the need for consensus and global support … AML and the role of the Financial Action Task Force (FATF).
We're all on one globe
FATF, created in 1989 to protect the "integrity of the international financial system," just completed its October plenary. A quick review of the key outcomes of the plenary makes my point on how this organization provides essential reports, typologies, and recommendations for the global problem that is money laundering and related crimes.
You cannot attack a global problem by being siloed, by building "walls", or moving to isolated areas to avoid conflict. FATF members understand this fact of global life.
The October meeting spent time on the terrorist financing disaster that continues to haunt us. It is a priority for FATF, which reviewed the laws of 194 countries, and concluded that guidance was needed for countries that had not quite addressed the goal of creating a law criminalizing terrorist financing.
In addition to that guidance, FATF also put a proverbial stake in the ground regarding financial technology, while also mentioning "regtech."
Some can argue that FATF is a bit late to the party. However, the organization deserves credit for getting its members to formally acknowledge that "fintech" firms need to be part of the financial sector or at least the regulatory infrastructure.
FATF also made the point that traditional financial institutions need to better understand how they can partner in this area.
(Note: Can someone explain "regtech" to me? Probably same answer when I ask about "big data.")
The key here is that fintech is a global challenge and FATF recognizes that outreach worldwide is the only solution.
Mutual improvement society
The major part of FATF's AML role is the mutual evaluation reporting process, or MER. FATF would not continue to exist if the member organizations did not agree that the only way to ensure a successful global response to money laundering is for the members to agree to accept the evaluations of AML experts of their jurisdictions.
As Quincy Jones once said, "Leave your egos at the door."
In the near future, the final MER on the United States will be released. During the plenary there was some discussion about the results (and those of Switzerland). When the report is actually published, AML professionals will be able to discern what rules, policies, or regulations could follow if there are criticisms leveled against the U.S. (or any country being evaluated, for that matter).
Improvement requires honest criticism
Mutual evaluations may not be under fire specifically, but candidates or policy makers who reject views from anyone not on their side run the risk of never improving whatever is being reviewed or analyzed.
Just think of the parent who says their child is never wrong. Or the lobbyist who fights any change.
It would be easy to go back to the well-known quote that those that cannot remember the past (or history) are doomed to repeat it. But I won't. (Okay, guess I did…)
Instead, as AML professionals we know that information sharing, private-public partnerships, and generally working together is the only way to address the global challenge of how illicit funds attack society.
We live and work in a global world. No amount of ignorance, discrimination, or arrogance will change that. AML succeeds when we work together.
That may seem simplistic or naïve.
But it is true.
* "Everybody Wants to Rule the World"—Tears for Fears (1985) with a line that says "I can't stand this indecision."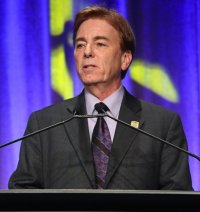 Latest from John Byrne
back to top