"Ten Years After"*
FATF review: Banks doing good job but regulatory gaps remain
With a nod to pop music, veteran John Byrne's blog scans the anti-laundering and anti-terrorism world. John pierces silliness and inconsistency, and strongly believes in private-public partnership.
In my previous blog, "Everybody Wants To Rule The World," I made the case that, despite unexpected election outcomes both here and abroad, globalism is an essential component of economies generally and AML specifically.
A key part of AML globalism is the Financial Action Task Force (FATF) and its mutual evaluation process. The "MER" of the United States has just been released and will certainly mean some changes to laws, regulations, and coverage over the next few years.
So, ten years after the last evaluation, what did the reviewers focus on? And where does the U.S. stand in the global AML community?
Recognition for challenging situation
The FATF assessment recognizes the "well-developed" U.S. regime and the substantial risks it faces
While leaving to others the in-depth analysis that this 260-plus report deserves, I want to highlight a few themes addressed and some clearly left out. (Both hopefully not ignored.)
Terrorism and its financing are high priorities and the evaluators found the U.S. strong in this important area. Oversight of AML in banking and securities were also called out as strong positives.
The overall effectiveness rating for the U.S. is correctly "high" or "substantial."
There is also recognition on the good work done on international cooperation, an assessment that no AML professional could question.
However, one must question a few areas not covered or at least not discovered by this old AML compliance participant.
Where is the acknowledgement of "de-risking" and the impact that lost accounts are having on law enforcement intelligence gathering? Instead, we see a reference to the admitted risks with charities—but no mention of the need to tackle that risk.
There is also a recognition of the AML supervisory framework as complex, with multiple regulators. But nothing appears concerning whether a 30-year history of overlapping laws and regulations may be problematic. Nor to the fact of financial institutions changing charters due to unclear regulatory expectations.
These are issues we know are out there and discussed.
Gaps in the AML/CTF environment
Given the length and scope of this report I will return to this in future posts but we should mention several of the areas of concern noted by the reviewers.
Somewhat buried in the later portions of the report, there's an acknowledgment that:
"Although public/private engagement is clearly taking place, all sectors expressed the desire for more input from the authorities to facilitate the identification of suspicious transactions and customers who should raise concerns. They would also appreciate more sectoral and horizontal information regarding the risks their activities are exposed to."
If you ask any AML professional, this last point would be at the top of their list.
And a close second would be this quote:
"While the FFIEC Manual is acknowledged as a good example of coordinated supervisory efforts to promote a common understanding of ML/TF risks and BSA obligations, there is a need for more and ongoing guidance from supervisors to industry on their regulatory expectations."
In fact, the report went on to note that the private sector is often left to discern expectations through publicly reported enforcement actions but "bankers met by the [FATF] assessors suggested that a more nuanced articulation of such regulatory expectations in advance would be more helpful than discovery through enforcement actions."
Coverage for noninstitutional parties
Certainly the major focus of gaps was in the "minimal" regulatory framework coverage of investment advisors, lawyers, accountants, real estate agents, trust, and company service providers. For lawyers, FATF acknowledged the work of the American Bar Association (ABA), but said:
"ABA has provided good voluntary guidance to lawyers and attorneys but as BSA obligations do not apply, there is no BSA supervisor for this sector. The ABA has a broad understanding of risks posed by the legal sector, but is not equipped to understand the risks posed by individual law firms. In particular, it considers strongly that any attempt to bring lawyers under BSA AML/CFT obligations will conflict with obligations around legal professional privilege and client confidentiality. Conversely, the assessors note that the lack of BSA coverage of lawyers contrasts with the very significant gatekeeper role being played by them particularly in the high-end real estate transactions and the company formation processes in the U.S."
In a related legal area, FATF called out the need to make a range of tax crimes predicate offenses for money laundering. (That's something I doubt I'll see while still following this area.)
Finally, (for this edition), FATF continued its global call for timely access to beneficial ownership information, a "fundamental" gap in the United States.
As you can see, we have just scratched the surface on the FATF evaluation. While not perfect, this method of determining where you stand is extremely useful in improving the needed global response to money laundering and related crimes.
* "Ten Years After" was an English Blues rock band whose big hit was "I'd Love to Change the World," in 1971.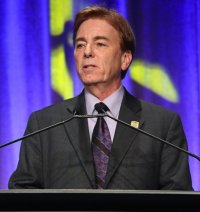 Latest from John Byrne
back to top