AML 2017 and beyond
"The Long and Winding Road"* continues…
With a nod to pop music, veteran John Byrne's blog scans the anti-laundering and anti-terrorism world. John pierces silliness and inconsistency, and strongly believes in private-public partnership.
I've just returned from doing training for a number of representatives from mainly community banks on a whole host of AML and related issues.
Over 30 years have gone by since the passage of the Money Laundering Control Act and the subsequent addition of more laws, regulations, and guidance. So I have grown used to the questions such as the several I received regarding what we can expect in the United States in this area with a change in administrations.
However, I have no idea what to expect going forward.
And that is a concern.
From nonpartisan to … what, exactly?
In the past, it really did not matter which political party was in power or how they shared power, in this context. Money laundering and all of its logical components were a priority. All policy makers viewed this as a global challenge. (At least later in the AML timeline, after everyone moved beyond the original notion of cash in suitcases being the only method of moving illicit funds.)
This does not mean that there weren't fair critiques of certain requirements, or the scope of same. As followers of this blog know, I strongly believe that a review of all AML laws and rules is long overdue. There was always a shared view, however, of doing the most to address criminal and terrorist activity.
It will be a while before we know that the same goals will maintained by the next Justice and Treasury departments.
So stay tuned—and please stay engaged.
As I am about to discuss, a major challenge from previous years continues, and needs focus and a global response—financial access or inclusion.
Talking with World Bank about de-risking
Since I mentioned the first "Stakeholder Dialogue" from June 2016, there have been a number of reports, speeches, and studies as well as guidance in the U.S. and elsewhere on the confusion regarding risk management of certain categories of customers that have been characterized as high risk.
There has been finger pointing and talking past each other, but, really, no solutions or recommendations that have changed this unhealthy environment.
The second World Bank/ACAMS dialogue, held just last week, focused solely on one part of the financial inclusion challenge ... that of charities and other humanitarian organizations.
We hosted representatives from the financial and NPO (not for profit) sectors as well as law enforcement and the regulatory community. The key issue is a logical concern that some charities have been utilized by terrorists or other criminals. The idea is to find ways to prevent a financial institution's being used to move funds into horrific activities.
It is safe to say that all participants are committed to seeking solutions. There was clear consensus on several needed "workstreams" that we are creating to continue the dialogue. One of the most accepted strategies is to dramatically increase outreach and education to all stakeholders so that the questions about charities and risk can be answered.
In the next few weeks, a study will be released that will prove the financial access problems of U.S.-based non-profits so that the AML community can move directly to solutions rather than still debating whether the problem exists.
For example, the study shows that two-thirds of non-profits working internationally have banking problems. The problems include opening accounts; keeping them; or facing delays in sending or receiving funds transfers. All of these problems harm needy recipients of monies dedicated to public health, poverty reduction, and human rights improvements.
So where does that leave us?
Key points going forward
The workstreams from the meeting mentioned above will include:
• Developing the information that bank examiners need to support the risk-based approach for banking services to non-profits that handle humanitarian causes.
• Devising suggested steps to reduce and hopefully eliminate concerns by financial institutions in engaging with reputable charities.
• Building sustainable coalitions to keep this issue alive.
Probably the most important project going forward is to explain to the entire AML community how to work with charities, ask the correct due diligence questions, and recognize that when aid is hampered, people may die.
There can be no more valuable priority for all of us.
AML, no matter who is in charge, and what the issue is, will keep us on a proverbial "long and winding road" ..
*"The Long and Winding Road" was a #1 hit in 1970 from the Beatles "Let it Be" album. Paul McCartney released another version of the song in 2003 since he hated the 1970 release, which included extensive additions or overdubs by Phil Spector.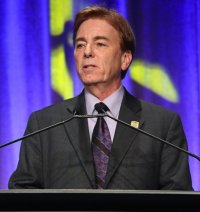 Latest from John Byrne
back to top