iPad to iPlate!
Volante—where Apples are always on the menu
If you can't use technology, you may be in trouble.
Volante is a restaurant at the Minneapolis Airport that represents a growing trend. The restaurant is a "gate-side"—one that can be found when four or five airport gates share the same common space.
The restaurant has an iPad on every table, yet it is more than a sit-down-and-surf café. Volante is a full-service restaurant with an iPad that serves as the device to browse, graze, and pay all at the same time. It will even automatically calculate your tips, thus saving you that awkward math task at the end of the meal.
You might think that I am drinking the Apple juice.
But this isn't about iDevices as much as it is a continuing technological proliferation.
Some ideas are good and some intimidating. Just because the device is there and ready to use doesn't mean it is easy to use.
Recently, while waiting for our flight, we had time for a full meal. So we walked in, sat down, and began touring the device at our table. The process was well thought out, and in general terms easy to use as well as efficient.
(Of course, I can be construed as technically proficient. Though our children would disagree.)
My curiosity got the best of me, though, and as I sat there, after ordering, I looked around.
I noticed a few patrons waiting for the wait staff to take their orders. They failed to realize that that staff was actually waiting on them to order!
Hmm, interesting paradox. The observation—and lesson—here is that not everyone understands that the technology is there for them to use.
Consequently, the wait staff would drop by tables with patrons just sitting and assist them with their order. The staff did an excellent job explaining the process to the customer and the technology is really easy to use. It is just a matter of giving it a try.
The iPads are wireless and when the order is complete, the kitchen is sent an alert for preparation. Additionally, the waiter that is assigned the table, is sent the drink order and comes to the table with the coffee, juice, and water.
Our experience was fun and from what we observed, if the traveler was not in a hurry they, too, found it a pleasurable experience. If you only had ten minutes to catch you flight, then you may want to Grab 'N Go as opposed to Sit 'N Surf!
The Wombat!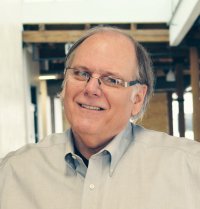 Latest from Dan Fisher
back to top