Fintech around the world
Quick roundup of tech developments here, there, everywhere
Stefano Tinti / Shutterstock.com
NAO is a robot that branches of Bank of Tokyo Mitsubishi UFJ will employ starting in April to greet customers. Read John Ginovsky's "Making Sense Of It All" blog weekly to keep up with tech and payment trends.
Sometimes it's worth stepping back and seeing what the next guy—or in this case—the next part of the world, is doing relative to pursuing new technologies and new applications.
No expert, no company, no country enjoys a monopoly on new ideas. And the same issues, challenges, and opportunities, and the responses to them, experienced in other countries can apply domestically.
At the least they can spark new insights or new approaches. But only if you know about them.
So here is a roundup of announcements from near and far, and in the last few months, along this vein. They're pretty much randomly listed, and they span a spectrum of financial services areas.
London—Seven bank technology startups were named for this year's FinTech Innovation Lab London. It's a collaboration between Accenture and leading financial institutions there, and supported by the Mayor of London, the City of London Corp., and Innovate U.K. The idea is to nurture early-stage companies that develop new technologies for financial services. (A similar project is held annually in New York.)
This year's selections are: Atsora, with a small-business application for business planning, cash flow monitoring, and growth financing; Cytora, with a data analytics application to provide real-time geopolitical risk assessments; Duco, with a service to help control and manage complex data; Pontus Networks, with a product to enable different types of business software run more efficiently and faster; Ripjar, with a platform that provides real-time social media monitoring and data analysis; Torusware, with an ability to increase the processing speed of IT systems; and xWare42, with a product that allows banks to give customers additional information about their products.
Canada—Celent reports that in this country tablets are being used by an increasing number of consumers and have become critical access points. Banks with a dedicated digital channels strategy are starting to design around the device itself, incorporating specific features in functionality relative to the device.
"One of the biggest differentiating factors of any institution in the years ahead will be the ability to adapt to the changes in consumer behavior. Consumption trends and preferences will define a bank's ability to attract and engage the customers," says Jacob Jegher, research director of Celent's Banking practice.
Asia/Pacific—IDC Financial Insights Asia/Pacific issued a top-ten list of trends expected for the coming year. They are:
1. 25% of IT budgets will be allocated to many new concepts.
2. Large banks will crowd out smaller competitors in many areas, including in innovation.
3. The industry will move toward lifestyle banking, adding advisory, aggregation, and facilitation to bank offerings.
4. Cloud-first policies will gain momentum.
5. Risk analytics, data aggregation, and regulation will be the new orientation for IT investments in risk management.
6. The growth of digital-only customer segments will raise urgency for the omnichannel.
7. Disruptions will cause payments revenue to shrink—some by at least 15%.
8. Big data programs will become tactical, while data management becomes more strategic.
9. Nationalistic IT will set the stage for Asia/Pacific vendors to also go super-regional.
10. Asia will lead the adoption of bank payment obligations, but growth for now will mostly come from cannibalizing letters of credit.
Europe—Mercator Advisory Group observes that the European merchant acquiring field has seen a surge in providers, old and new, offering mobile point-of-sale devices and attempts to differentiate themselves.
"The diversity of acquirers providing m-POS devices stems from the devices' potential to generate new revenue streams, bolster acquiring relationships, and enhance the electronic payment experience for both consumers and retailers. To date, the devices represent only a small portion of the installed POS terminal base, but signs point to their rapidly becoming the preferred checkout instrument of retailers of all sizes due to the cost and efficiency savings of these handheld terminals," Mercator says.
Global—Nuance Communications Inc. reports that its voice biometrics solutions are being deployed at banks around the world as a means to replace PINs, passwords, and security questions for customer authentication.
"Organizations around the globe are demonstrating first-hand that voice biometrics is a desirable alternative to PINs and passwords," says Robert Weideman, executive vice-president and general manager for the Enterprise Division of Nuance. "The password problem is universal, and voice biometrics offers a proven alternative for organizations to enhance security and at the same time improve their customer experience."
The company cites these examples: Abu Dhabi Commercial Bank, United Arab Emirates; Banco Santander Mexico; Barclays Wealth and Investment Management; ING Netherlands; and others.
Australia—SWIFT is creating an offering that allows domestic retail payments to be made instantly between financial institutions and their customers' accounts. Its first product in this area will be the New Payments Platform, a new Australian infrastructure developed together with leading local financial institutions. It's expected to go live in 2017.
There will be three main technology components to the solution developed by SWIFT for the Australian community:
• The network—A "Domestic Messaging Channel" that enables participants to exchange a high volume of messages in-country, with low latency, on a 24x7 basis.
• The switch—A payments gateway that orchestrates clearing and settlement flows.
• The addressing database—A proxy addressing lookup service allowing payment routing based on personal identifiers such as a mobile phone number or email address.
"Australia is one of a growing number of countries looking to implement new domestic payments systems in order to achieve faster and more cost-efficient payments. This is a significant first step for SWIFT in this space," says Alain Raes, chief executive of EMEA and Asia Pacific at SWIFT.
Japan—Some branches of Bank of Tokyo Mitsubishi UFJ, in Tokyo, will employ little humanoid robots to greet customers.
Named NAO, the plastic-bodied machines are 58 centimeters, or about 23 inches, tall, have red-lighted eyes, and can walk and talk. Most important they can answer most basic customer-service questions in 19 languages, as well as analyze customers' facial expressions and behavior, the bank says.
They are expected to be placed in one or two branches in April. Further deployment will depend on customer feedback.
"We can ramp up communication with our customers by adding a tool like this," says Kazunobu Takahara, a bank spokesman.
Okay, maybe the placement of this last item wasn't so random, but it is legitimate and, who knows? Maybe there will be little robot overlords all over the place.
Sources used for this article include:

Seven Financial Technology Startups Selected for the FinTech Innovation Lab London
Innovation Gets More Budget and Mindshare in Asia/Pacific Banks in 2015: IDC Financial Insights
Understanding the European M-POS Landscape
Organizations Around the World are Using Nuance Voice Biometrics to Make Passwords and Security Questions a Thing of the Past
SWIFT enters into real-time retail domestic payments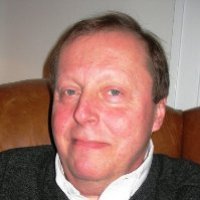 Latest from John Ginovsky
back to top