What makes winning banks and bankers?
Passing of Wells' Carl Reichardt makes opportunity to reflect and project
"There's really not much that indicates we've learned anything new over the last several cycles," says veteran lender and CEO Ed O'Leary. He aims to fix that.
Recently the news carried the story of the passing and remembrances of Carl Reichardt, CEO of Wells Fargo from 1983 to 1994. This was the old Wells, the predecessor bank to the one that emerged from the combination of Wells Fargo and Norwest later in the 1990s.
Reichardt was a warrior on two subjects of great importance to him. The first was his constant crusade to reduce costs and eliminate waste. A Wall Street Journal article noted that he "banished potted plants and underperforming employees." The other was his conviction that bankers need to sell themselves and their banks to their communities. It was not enough to just sit back and let the customers come to them.
He said many times that he "considered himself not as a banker but as one who happens to be running a bank."
Interestingly, these and other themes he sounded during his career still reverberate in the present.
Were bankers innovative enough? And are they?
In an interview with the Los Angeles Times more than 20 years ago Reichardt observed that the typical banker had the mindset of a civil servant in terms of cost control and having a guaranteed income for life. This was in the days of a more traditional structure of interest rates that helped banks generate a steady and more predictable stream of net interest income.
But my own recent observations of many community bankers' attitudes suggest that things are not so different today.
We read regularly in trade journals and related publications about how commercial bankers lack much in the way of an innovative spirit and approach to business. We are also bombarded with reminders that the "fintechs" have started to eat our lunch as an industry.
Many of today's practitioners are reluctant to consider themselves sales people and I can say that from direct experience working with many bankers in today's environment.
So to a considerable degree, the criticisms continue to be valid. And I can also observe how little has changed in 20-plus years in some important respects.
But let's think harder about this…
Is it wholly true that bankers can't innovate?
I take sharp exception to the notion that commercial lenders are not innovative.
Consider:
1. Successful lenders, those with a growing book of business and administering individual portfolios of strong credit quality, are quintessential sales people and innovators as well.
Commercial lenders have to sell their customers' deals to often skeptical and always conservative committees while at the same time convincing their customers that the pricing and terms they are offering are appropriate for the structure and risk profile while also fair and competitive.
2. Experienced and skilled lenders understand that deal structure is often key to a successful repayment program and the demonstrable capacity to repay.
So a deal's structure is not necessarily out of a ready-made mold and more often than not requires handcrafting to suit the exigencies of the present day and moment.
More than "paint a loan by the numbers"
This really brings us back around to Reichardt's passion for selling and getting out from behind the desk as a model for appropriate banker behavior. Bank loans are often considered to be fungible commodities. They are the same, some people think, from one bank to the next and one customer to the next.
But is that really so? Are the Cs of Credit simply mechanistic formulae with a "paint by the numbers" mindset?
As an industry we have endured nearly ten years of razor-thin net interest margins. Where would we be were it not for our collective ability to sell our customers on new services and sources of fee income to be able to maintain our returns on owners' equity?
Without some sales "smarts" how would we have been able to conservatively recruit and book what bankable credits were available in the immediate aftermath of the worst business downturn since the Great Depression?
Banking needs revenue
But Reichardt's legacy also highlights a very durable fact of banking life and in fact probably more urgent today than during his days as a practicing banker. As an industry, we have a revenue problem that's every bit as urgent as our need to control expenses. We don't talk about it in exactly these terms but we need to build revenue.
The knee-jerk reaction that's prevalent among so many bank executives is that we must save our way to prosperity. This is deeply flawed and will lead to our ultimate extinction.
Instead we must adapt and address our markets with solutions in the form of product development and new adaptations of service to an increasingly technologically sophisticated customer base.
Innovating on innovation
In a word, we must "sell."
But that also means that the potted plants and the non-productive members of the staff have got to go.
As we face the years to come, with their certain competitive challenges, we need to realize that our competition is not confined to banks. Customers have many alternatives to the services we offer.
The type of innovation that has distinguished the successful banker is changing but I for one do not believe that we are inherently incapable of adapting.
Back to Carl Reichardt. We pause this week to reflect on the professional life of one of the industry's greats. I wonder who among us his successors will turn out to be.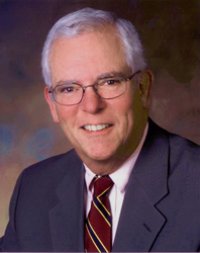 Latest from Ed O'Leary
back to top