Brexit Blues: "We Don't Need No Education"*
Isolationism is not the answer to AML—or anything else, for that matter
With a nod to pop music, veteran John Byrne's blog scans the anti-laundering and anti-terrorism world. John pierces silliness and inconsistency, and strongly believes in private-public partnership.
We are in a time where "leaders"—using that term very, very loosely—push for some form of either exiting the global community or targeting groups for negative treatment.
Creating conflict, rather than addressing challenges, seems to be today's preference. After all, friction requires no thinking or hard work.
In that vein, the United Kingdom, against the recommendations of many, voted last week to exit the European Union (the so-called "Brexit").
In this day of a global economy and the need to work together to address such nefarious actions as terrorist financing, it boggles my mind that voters would reject coordination and embrace a clear form of isolationism.
The only solace for those of us who respect the need for some form of global coordination is that the younger voters in Britain voted overwhelmingly for the U.K. to "remain."
Of course, we here in the U.S. may have to make a similar decision on globalization—effectively—come November.
AML people "get it"
For AML professionals, I can safely say we appreciate the need for global and domestic partnership. Two recent examples relate.
The first is domestic. Last week I was honored to be able to share some AML-related ideas with the "BSA Coalition" in Richmond, Va.
This coalition consists of law enforcement, regulators, and the financial sector. The coalition uses the excellent phrase, "Rising to the Challenge—Staying Ahead of the AML Curve." There is a clear understanding with this group that working together is the best method to both improve and strengthen AML.
Reflections on FATF's latest plenary
The other event—an international one—was the completion of the Financial Action Task Force (FATF) June 2016 Plenary that offers a number of actions that confirms the value proposition of coordinated global efforts.
One outcome was the consolidation of FATF standards on information sharing, with this key statement:
"Effective information sharing is one of the cornerstones of a well-functioning anti-money laundering/counter-terrorist financing (AML/CFT) framework."
FATF discusses all aspects of information sharing between the private and public sectors and within each individual sector. There is no stronger embrace of globalization than information sharing.
(Note: I do take issue with one comment that financial institutions be protected from civil or criminal liability for reporting suspicious transactions but only if the reporting is done in "good faith." That's a horrible limitation. I will write about it in a future posting.)
Considering "NPOs"
FATF also updated its standard on charities or non-profit organizations (NPO) in part, I assume, because of the concern that financial institutions are staying away from NPOs due to perceived—or actual—high-risk characterizations.
By providing direction to countries to work with NPOs to better understand their terrorist financing risks, FATF is hoping that it will improve the reputation of charities that are located in high risk areas or conflict zones.
As I've mentioned in previous postings on de-risking, all stakeholders want charities to be protected so they can succeed in their mission. If the recommendations, standards, and measures listed by FATF are followed, the AML community can assist legitimate NPOs as they strive to protect and improve the lives of those with the greatest need.
Sadly, there are some who reject coordination and cooperation. Somehow, they see it as a sign of weakness. Yet 30 years of AML tells me that our peers do the opposite.
Taking a hard look at each other
The last point that I'll make (for now) regarding FATF as a perfect model for global partnership is the organization's mutual evaluation process.
FATF members accept the process of being evaluated—even if they do not always agree with the assessment.
Last week's plenary saw announcements on a number of soon-to-be-final mutual evaluations—and some harsh comments about gaps in AML in Brazil. The objective nature of these evaluations needs to be highlighted and do serve to spur countries to improve their compliance and legal infrastructure.
None of this would be possible in a world of isolationism and so-called sovereignty. The global crimes of terrorism, human trafficking, and many other actions demand a unified response.
We may be pessimistic about recent actions and calls to turn our back on problems. But I believe that AML is a model for how to work together.
* Pink Floyd's "Another Brick in the Wall (Part 2)" from 1979's "The Wall."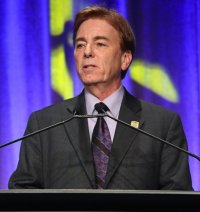 Latest from John Byrne
back to top