"It's Been a Long Time Coming"*
AML 2016: Three decades of commitment to a critical cause
With a nod to pop music, veteran John Byrne's blog scans the anti-laundering and anti-terrorism world. John pierces silliness and inconsistency, and strongly believes in private-public partnership.
Later this year, it will be 30 years since the passage of the first U.S. laws making money laundering a crime.
Many of us have questioned the ongoing patchwork of laws that have been added without adjustments to the original requirements. However, there are few of us who do not support the mission of these laws—attacking the movement of tainted or illicit funds to commit the legion of heinous acts that prey on society throughout the globe.
You may still find an occasional banker who bemoans suspicious activity reporting, arguing that they are "not in law enforcement." But most in the traditional banking sector (and now many other facets of financial activity, such as gaming, precious metal dealers, and others) understand the need to coordinate and collaborate with our government peers to stem the flow of laundered funds.
FinCEN's "GTOs"
What made me think of this? In part it was a recent move by the Financial Crimes Enforcement Network (FinCEN) to expand the reach of so-called "Geographic Targeting Orders." These address the continuing growth of money laundering through real estate in cities and major areas beyond the current focus on Manhattan and Miami-Dade county.
For 180 days, title insurance companies in six new and current areas will be required to determine the "natural person" behind shell companies that pay for high-end residential areas all in cash.
Let that sink in—all in cash. For example, a $2 million home in San Diego County paid for all in cash would trigger a reporting requirement.
Sounds reasonable to me.
What struck me about the responses since the FinCEN announcement is what always baffles me about reactions to regulatory reaction:
Everyone will find an excuse to complain rather than offer solutions or suggestions to improve a proposal.
For the targeting orders—BTW I believe that this old "tool" is an excellent use of regulatory discretion—the data is certainly useful to law enforcement. Yes, the reporting comes on top of current filings. However, practitioners who argue that focusing on sales with title insurance neglects other types of house sales without title insurance speak the truth, but it is frankly irrelevant.
FinCEN points out that title insurance is a "common feature" and the agency believes that those companies play a central role in the transactions—remember, all in cash.
Why we care
Will FinCEN's measure capture all cash sales? No. But is that a reason not to do it? Of course not.
The other comments I've read from the real estate industry collectively are equally a head scratcher.
One prominent real estate representative opined that all cash purchases through straw men were done to protect foreign investors from kidnapping and other crimes in their home country. And this person added both that this is a terrible time to impact foreign investment, and why should the US care?
Well, perhaps a small item such as the laundering of funds to commit crime is why we all should care.
FinCEN does commend the title insurance industry for its cooperation, so that must be noted.
30 years later, the mission continues
My initial point does hold, however. Our community is committed to protecting victims of elder abuse, terrorism, human trafficking, illegal drug sales, fraud, and many other ways that monies enable crime.
The recent focus on corporate governance, board of director engagement, and broad commitment to human trafficking prevention without being required tells me that we should be optimistic about the leaders in AML being role models for following regulations, policies, and individual strategies that are geared for the mission we all (hopefully) share.
Those on the sidelines, or opponents of rationale and practical requirements, need to rethink their positions.
Thirty years after the Money Laundering Control Act of 1986 we have a strong sense of what works. We debate on what may need adjustments. But we find common cause on why we choose this profession.
* "Long Time Gone," a 1969 song by David Crosby and sung by Crosby, Stills, and Nash on their debut album. It includes the line "you got to speak out against the madness" which seems appropriate today.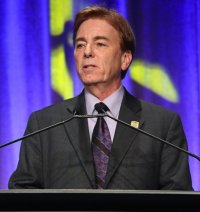 Latest from John Byrne
back to top