"We can make it happen"*
Learning and improving since 9/11
With a nod to pop music, veteran John Byrne's blog scans the anti-laundering and anti-terrorism world. John pierces silliness and inconsistency, and strongly believes in private-public partnership.
September 2001-September 2016: 15 years later
We have just finished recording several interviews remembering 9/11 for the upcoming ACAMS AML & Financial Crime Conference.
It is difficult to note that it has been 15 years since life changed forever for the AML community and U.S. society in general. Remembering where you were and what actions were taken immediately after those cowardly attacks has been the themes of those interviews, with an additional focus on where we stand with AML/CTF/sanctions et al in 2016.
Sadly, we have witnessed a number of additional attacks here in the U.S. and around the globe.
The positive news, if there can be such a thing, is that the financial sector is quick to react to each and every attack with immediate research and investigations to report financial activity/transactions to the relevant law enforcement and government authorities.
For example, the banking response to the Boston bombings was essential to pursuing the criminals responsible, as was the response to the Paris attacks. The combination of enhanced analytical tools and knowing what to look for has made the financial response more efficient and focused than it could have been 15 years ago.
However, the question must be asked:
Has the overall AML infrastructure dramatically improved since those dark days of September 2001?
Well, like life, the answer is somewhere between "yes" and "no."
Remember when everyone worked together?
Right after 9/11, the banking sector sprang into action, assisting law enforcement, getting support from the top of every organization, and actively working on the legislation that eventually became the USA PATRIOT Act.
Law enforcement forgot their fiefdoms (for a while at least) and worked together, sharing critical information, typologies, and other leads.
The regulatory community issued guidance documents, offered compliance advice, and seemed (for a time at least) to prioritize the dissemination of information over the previous "check the box" mentality.
The media too, seemed to stress the importance of tracking the bad guys instead of writing about compliance deficiencies.
Did all of that continue? Well, of course not.
However, when observers think objectively, they find that overall improvement to infrastructure did happen.
But sometimes we stumbled
On the negative side…
• We saw the disappearance of Riggs Bank, through management arrogance and regulatory indifference.
• Section 314 of the PATRIOT Act, drafted as a "two-way street" for private-public information sharing, become basically a government edict: "Here is a name, look it up."
• Several financial entities identified by the law to have AML obligations, lobby and stall to avoid any real requirements.
• Other banks and firms commited flagrant indifference to AML obligations or actually intentionally "stripped" information to hinder important reporting.
All of this, plus sporadic congressional oversight, pushed regulators toward a policy of at least informal "zero tolerance." This behavior produced audible giggles whenever the concept of a "risk-based approach" came up.
Then there is the personal liability fiasco, added to the maelstrom I've described. This entails the view (held by some but not all) that "we" (whoever that is) need to hold individual compliance/AML officers personally liable—despite a governance structure that belies that concept.
Also, the concept of law enforcement working together seems to have only been a point in time, given the current landscape. This view was confirmed to me actually today by a federal law enforcement official who bemoaned the competition between agencies who place a higher value on who is in charge over succeeding in the shared mission.
Finally, take the de-risking issue that I have mentioned many times. This debate results directly from regulatory confusion; law enforcement absence from the debate, through no fault of their own; and people talking past one another.
Yet all is not lost
Is there anything positive 15 years later?
Hard to believe, but I answer with a resounding "Yes!"
There are more professionals in AML now than at any time in this specialty's 30-year history. The culture of compliance is improving every day.
However, we need to continue to emphasize the many successes.
Further, we must respond to faulty media reporting and columns by those that attack the overall community if they don't believe a focus is exactly the way they view AML.
The regulatory part of AML needs to be told that they can focus on what is essential—getting information into the hands of those best able to utilize it. And these players need to be assured that they won't be criticized for allowing that to happen.
And finally, all concerned need to remember the spirit that came forward after 9/11.
Thank a compliance officer for their work.
Acknowledge law enforcement and its role.
And don't be afraid to criticize (with specifics) laws, regulations, or policies that have outlived their usefulness.
The way to remember 9/11 is to coordinate, collaborate, and communicate.
We owe the heroes and the terrorists' victims nothing less.
*Dialogue by Chicago from 1971 that also contains the line:
"We can change the world now…"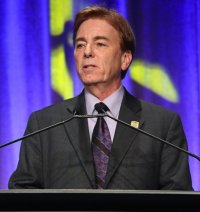 Latest from John Byrne
back to top