What's your North?
Your banking career lies in your own hands
One day as a first lieutenant on active duty, I had a highly decorated colonel sitting at my desk waiting for the completion of a particular document that would enable him to receive his final Army separation pay.
I asked him, on that last day of his active-duty career, if he had any regrets.
Some sort of perfunctory response is what I'd expected. Instead, he surprised me.
"I didn't want to become a general soon enough," he said.
In other words, his successful career might have been more successful if he'd fixed his sights higher and sooner. I suspect that may be true of many of us. Personally, when asked a question in that vein my own sincere response is the very same as that colonel of many years ago: I didn't work hard enough soon enough on the things that might have made a decisive difference.
To younger lenders reading this, two questions:
• Are you working hard enough to get where you want to go?
• Are you working soon enough to have the time to get there?
Where are you heading?
The last few years I've often been cast in the role of mentor and advisor to younger bankers. It's probably the gray hair. But maybe it's reflective of how random success is in finding reliable and helpful mentors in our industry today
The life of a commercial banker is varied. The skill sets required to be successful are numerous. I was prepared, to a degree, by a good education. I was also fortunate enough to work for a classy employer that offered an excellent training program and apprenticeship sorts of experiences early on.
My progress, such as it was in the formative years, was relatively unstructured and unprogrammed. I sort of followed my nose, doing what appealed to me, but with no thought about assembling in any strategic sense a series of experiences that would be to my cumulative career benefit.
I simply reacted to developments in my environment. When things became boring or I grew unhappy with my circumstances, as occasionally happened, I made a change.
Oh, I put in the hours and did the unpleasant jobs like most of us have had to do along the way. But I never compiled an inventory of skills likely needed to make it to the top rung professionally. My first employer supplied much of that at the time but the later ones were not nearly so farsighted, nor was I. The resulting gaps were largely of my doing, as I'd not taken the time or expended the effort to figure out what those inventory items might be.
The remarkable thing is how well it turned out for me, in spite of my benign neglect. I worked in every type of line and staff job on the credit side of commercial banking, affording me a unified sense of the lending function, ranging from business development to account administration to the workings of internal controls such as Loan Review and Credit Administration.
My final destination was a ten-year run as CEO of a medium-sized regional bank.
Take your inventory now, not later
Looking back, I was lucky. But I wonder what sort of a banker I'd have become with a more structured and formal approach to my career assignments. I say this with reference to professional achievement and ultimate financial success.
To my young friends in the business, I say, don't follow my example as an unstructured, relatively unfocused young white-collar worker without many, or perhaps any, predetermined, well-articulated long-term goals. If I'd had more personal discipline at an early age, I'd have worked a lot harder and more diligently on acquiring both functional skills and soft skills to advance my career.
The functional skills for a commercial lending job are the usual ones that most all of us think about—accounting, corporate finance, economics, marketing. What I did not do along the way (and I'm the loser for it) is think about them as an integrated set of skills and competencies. They are not stand-alone disciplines in their application to today's business world. But I missed that early on.
Perhaps the closest thing, by way of analogy, is how many, if not most, community bankers have traditionally thought about risk. We were captives of "silo thinking" and not conditioned to have a 360-degree perception of our environments. Yet bankers today live in an integrated, interconnected world where our silos can be like big self-contained spheres, not illuminated by an appreciation of the dynamics and connectivity to the larger business operating around us.
To be successful, we must be masters of a specific body of knowledge and merge that with effective workplace experiences to develop as effective and valuable agents for our employers and our customers. I wish I had a better sense of that at a younger age.
What I've come to fully appreciate in more recent years is the value of the soft skills—communicating with the oral and written word; an interest and understanding of what motivates people— psychology, for want of a better term—and the cultivation and practice of those things that enrich our lives, such as the arts and community service.
What do you want to be tomorrow? Want will it take?
If you're "30-something" and have less than 10 years in the business, perhaps you aren't yet sure that banking is a good fit for you. I can't answer that for anyone else but me—and I was certainly lucky in exactly that way.
But if you like the business and consider banking your life's work, set your sights now on where you want to go and what you want to become. It's the Stephen Covey principle of "begin with the end in mind."
That brings us back to a theme we hear often today—that of personal responsibility. We are responsible for our own success.
I strongly urge each of you to think formally and deeply about your life's work and the elements of success.
Here's my short list of what I think you should do starting right now:
1. Have a plan.

That means acquiring the skills sets—hard and soft—necessary for today and tomorrow, including a variety of wide but related workplace experiences.
2. Shoot high.

Expect that some day you'll get there—and that you'll work damned hard in the meanwhile.
3. Start early.
Don't wake up at age 50 and say, "I didn't want to be a general soon enough."
4. Do it today.
Leaving these things to others means no one is in charge.
And that's a huge risk to take with your own career.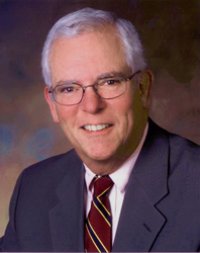 Latest from Ed O'Leary
back to top